Fri Jun 08, 2018 7:22 pm
I'll be standing beside the Spitfire for the next 2 days. Drop by.
Sun Jun 10, 2018 9:22 pm
Tremendous success! It was a wonderful Airshow, and also the biggest crowd I have ever seen.

They closed the gates, and denied people entrance, at 150,000 -- that was the rumour I heard.

I didn't fly -- the new Spitfire was static-display-only -- but a Mustang and a Corsair did, and I was very impressed. They did individual air displays and formation display and a heritage flight. Extremely professional, competent work. I don't know the names -- I never did get a Program.

I was parked beside the P-63. A very pleasant young fellow named Taylor Stevenson was the pilot. He opens the nose cowl so you can see the huge 37mm cannon rounds in their magazine. Bright brass, and very unusual, eye-catching, racks. (Bigger rounds than in the Warthogs beside both of us!)

And I got to sit in the P-63. Small cockpit, but I love the roll-up windows -- just like my Fairchild!

BTW, a couple of Wixers said hello. I hope they chime in.

Dave
Sun Jun 10, 2018 10:09 pm
It was nice to meet you today, Dave.

It was a great show with fantastic weather. To your point above...if anyone is thinking of going next year, show up early! I hopped on the shuttle bus at 0830 and had a short wait to get in. Right in the middle of the flying displays, my kids suddenly became hell bent on seeing the upstairs part of the C-5. That was the longest we waited for anything and even then it wasn't too bad. (I now have a photo of my kids in the pilots' seats of a C-5, pretending to fly somewhere. My seven-year-old seemed to intuitively know that the FMS is what you use to tell the big beast where you need it to go. Scary.)

After I returned home, I had an email with a photo of a DHC-1 and Spitfire parked nose to nose. Go figure!
Mon Jun 11, 2018 8:55 am
Fantastic pic, Mark...thanks for posting.
Sans national insignia, my first guess for 42-69402 was that she was eventually headed for the VVS. Baugher indicates she's a P-63A-8-BE from a block that was probably headed in that direction.
And in the background appears to be 42-69423, a P-63A-9-BE that was shipped to the UK to be tested by the RAE. Here's a pic I had in a file of her British identity, FZ440. I'm afraid I don't know to whom to give credit for the original.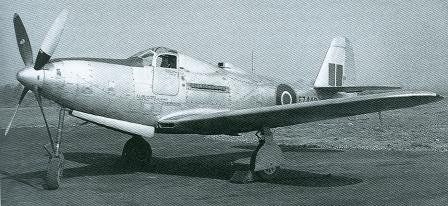 Mark Allen M wrote: