I actually hate to admit it, but I found an original pair and a repro set on ebay. I've never bought clothing there (other than a garrison cap) but I've bought other merchandise from this seller so I feel pretty safe.
My deal is the herringbone twill coverall that was worn by many mechanics, tankers, and lots of other walks of military life. While researching the various airfields in 2AF the Quartermaster reports consistently complained about shortages of the HBT coveralls. Even the Depot-level QM couldn't get them from the manufacturers fast enough. It seems that every time a Bomb Group left for the Port of Embarkation LOTS of coveralls came up missing.

Also, they were torn and soaked with oil and grease during normal maintenance operations. The Harvard AAF Quartermaster complained that after they got the B-29 nearly all coveralls and fatigues turned in by the engine crews had to be surveyed. Very few items were worth salvaging after such hard use.
Here's a nice photo I forgot I had, taken in the engine change hangar at Walker Army Air Field. Notice that the sergeant's shoulder is ripped and the guy behind him is moderately dirty. Judging from his size, the moderately dirty fellow is the one who got to disconnect the stuff inside the nacelle.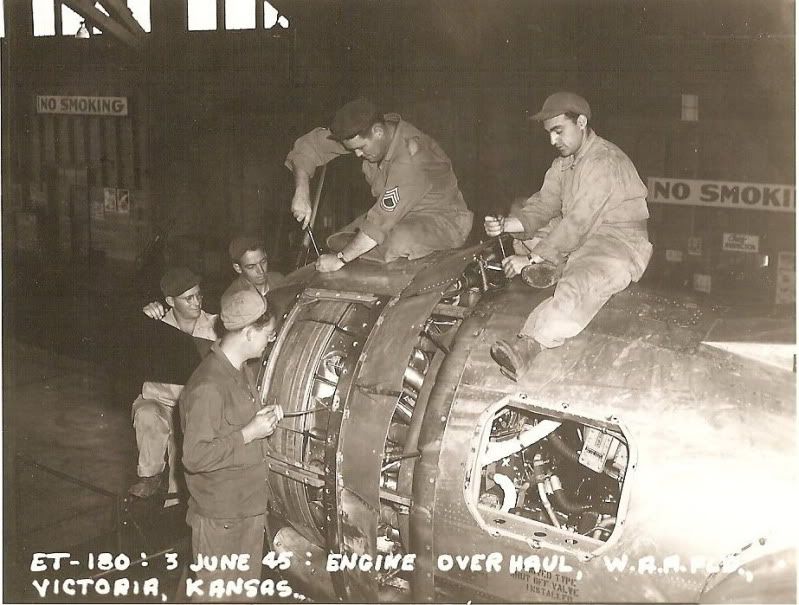 Scott