The discussion on CAF markings on airplanes was in my mind when I saw this photo from a recent spectator battle in California. Take a
good
look at the Jeep:
http://picasaweb.google.com/442ndrct/MTH2009#5388848297206568722
They have their
unit website
on the side of the vehicle in a display battle???
Come on, I can sort of understand the license plate if they drove there and it's screwed into place (I use quick disconnect straps on mine and remove the plate at shows, but I know others don't), but a decal on the side of the Jeep for their website?
Sorry, but if I saw that, I'd probably gather my stuff and leave. And people wonder why so many folks sneer on re-enactors. I was hesitant to post this in the first place, as you never know how such things will be received. I don't know these guys and have
nothing
personally against any of them. If you look at the rest of the photos you can tell this Jeep was
rolling into a spectator battle
. But seeing the photo just made my jaw hit the floor and a utterance of "You have
got
to be #@$%ing me."

I have a few things like this that show up on my Jeep at shows. Take a good look at this photo of my ride at a car show: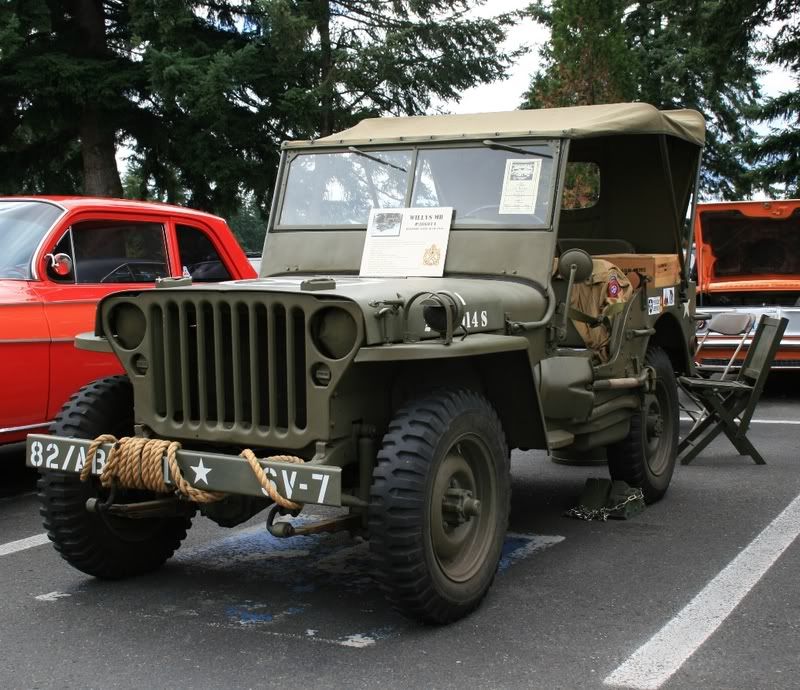 The sticker above the rear wheel well is a "Proudly served – 2nd Infantry Division" and the one next to it is a photo tribute to a WW2 vet friend of mine who passed in 1999. This kind of show is the only time those magnets get placed on the Jeep. The sign on the windshield is a description of the Jeep itself and it does often stay with the Jeep at many shows when it's just sitting there on display. The thing on the windshield glass is the vehicle number for the car show, and only there for that event. When it sits at any other kind of shows, it has that sign sitting where you see it and that's it. I even remove my license plate from the back end and stow it away for the duration. Even in parades, someone will invariably hand me a 50-star flag, and it goes right into the glove box (and in fact I have a few small 48-star flags of the type you see at parades just in case someone presses me to have a flag). The same goes for stickers or magnets from events I attend with the Jeep. I figure if it didn't exist in 1944-45, it shouldn't be in or on my Jeep (reproduction items notwithstanding, of course).
_________________
Life member, 91st BG Memorial Association
1944 Willys MB #366014, MVPA
REMF