Tue Apr 23, 2013 2:29 pm
Hello. I am the proud owner of a WWII footlocker. A couple of years ago I lost the key and the footlocker is locked. Any ideas about how to get a replacement key? I dropped it off at a local locksmith a few years back and they were unable to make a new key. Should I try a different locksmith or is there a better route?
TIA
Tue Apr 23, 2013 2:45 pm
Could you possibly post a picture of the lock? I have a good friend who is a locksmith, and he might be able to give you some advice.
Tue Apr 23, 2013 2:47 pm
I will take a picture tonight.
Thanks again
Tue Apr 23, 2013 8:31 pm
Eagle Lock Company- Terryville Conn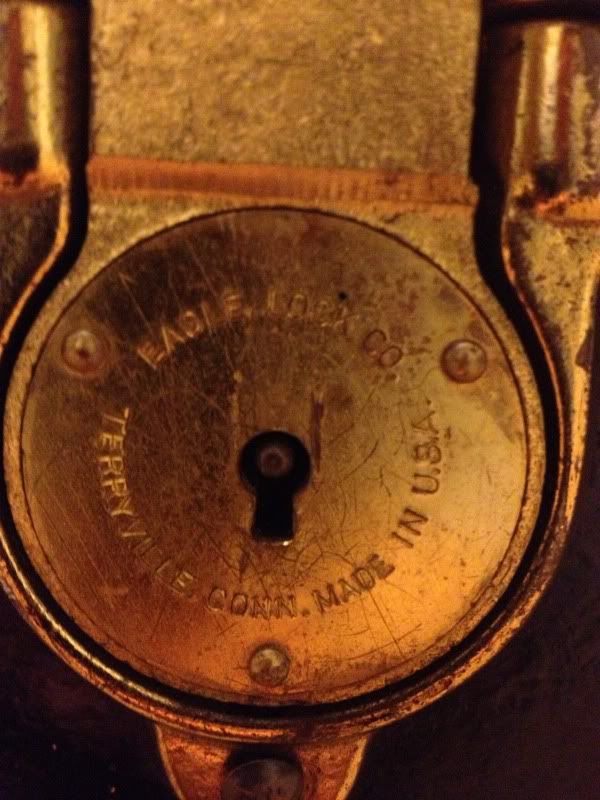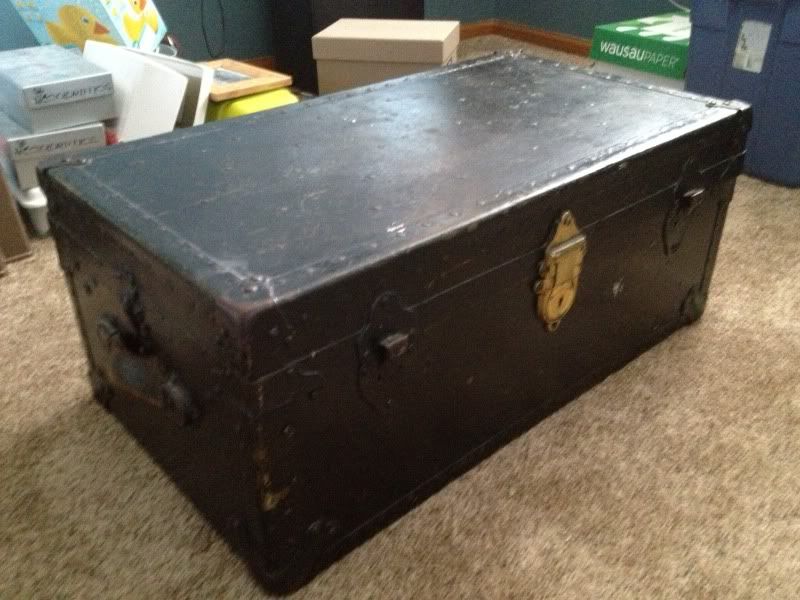 Wed Apr 24, 2013 7:02 am
My buddy (the locksmith) said it is a standard trunk lock. He said the key would have to be hand filed. He suggests you call around to a few locksmiths and see if one would take on the project, unless you wanted to take a road trip to central Wisconsin.

Wed Apr 24, 2013 7:44 am
Thanks Bear! I will give it a shot.
Wed Sep 04, 2013 4:38 pm
Bear, I also have a lock with no key. Did you have any luck with making your own key?
Thu Sep 05, 2013 10:08 am
I have not been able to find a locksmith that actually has a storefront. The ones in my area are all mobile and work out of a van...
Sat Nov 02, 2013 7:37 pm
just cruising through here and took a look at your problem. Thankfully, I haven't had your issue but in anticipation that my good luck would inevitably run out I took a look on line to see what's available. This guy looks like he might have what you're looking for:
http://www.ebay.com/itm/like/221265517991?lpid=82
drop the guy a note with the size/type lock with some good, detailed photos and see if he might have your size. Good luck and let us know how you do.
Sat Nov 02, 2013 10:19 pm
I've opened a few of these in the past.
Bend a piece of flat steel stock (approx 1/8 by .032) into an Z, with the first leg approximately 1/8in longer than the distance from the center pin to the edge of the keyhole, the second bend long enough to keep your knuckle from scraping the latch, and the third bend long enough to be a handle
The key actually moves the latching mechanism, rather than just locking it, so you aren't 'picking' the lock as much as making a new handle.
With a little luck and patience, you should be able to turn the latching disk, while missing any wards. Use the center pin as a fulcrum to turn the disk. A little dash of penetrating oil before starting is a help as well.
Sun Nov 03, 2013 1:18 am
I have what looks to be the exact same chest, but it never had a lock! It has markings as a military medical chest.
Sat Apr 09, 2016 11:01 am
I do not know if you have already given up or still have this problem while googling trunk parts this listing came up. The key for this lock is a hollow barrel type key. I could not read the number on the lock it starts with the OB then three numbers the first number should be a one then two more numbers this is the key code. the keys for this lock can be found on ebay. They also can be found at Brettun's village trunk shop website in Maine and Island trunk shop web site in Boston.

I hope this helps sorry for it being so late after the posting did not see this untill today
Wed Apr 24, 2019 2:02 am
I've opened a couple of these previously.

Twist a bit of level steel stock (approx 1/8 by .032) into a Z, with the primary leg around 1/8in longer than the separation from the inside stick to the edge of the keyhole, the second twist sufficiently long to shield your knuckle from scratching the lock, and the third twist sufficiently long to be a handle

The key really moves the hooking instrument, instead of simply bolting it, so you aren't 'picking' the lock as much as making another handle.

With a little karma and persistence, you ought to have the capacity to turn the locking plate, while missing any wards. Utilize the inside stick as a support to turn the plate. A little dash of infiltrating oil before beginning is an assistance also.