greetings all,
so I'm wanting to portray a US Marine Aviator during the Solomon Islands Campaign, particularly with the Cactus Air Force flying for VMSB-231. I've been trying to do some research into this but certain things have come up a bit short.
To start with, let me see if what I have found to be accurate:
"Bomber Jacket" - would be a M-422 or M-444 jacket?
here's the company and the jacket I'm thinking of:
http://www.goodwearleather.com/pages/sa ... _0001.html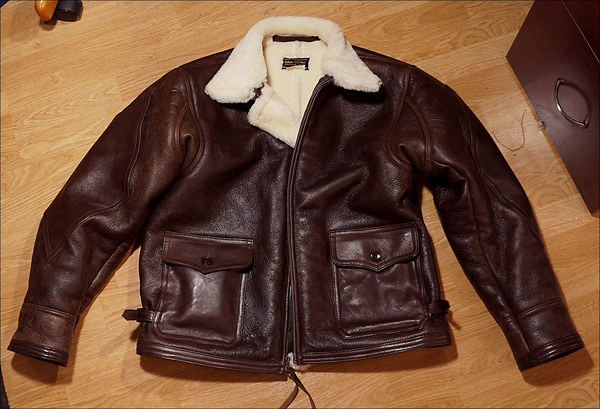 - I already have one nice, A-2... so I'm leaning more towards the M-444 jacket because I live in a colder climate and it'd be great November - March
- but how often were these even worn while deployed? I know they were used because of the high altitude, but it's hard to see air crew pics with any of them wearing them

I also found this site, with gorgeous original jackets and such
http://www.303rdbg.com/uniforms-gear2.html
then there is the rest of the uniform...
and this is where I'm getting a bit lost.
Pattern 1941 HBT - am I assuming that would be the same as today's MCCUU's? So this would be the basic every-day wear?
then there's the dress uniforms:
I'm thinking the middle, khaki one is correct?
cept they wear like a "trops" version where the jacket is omitted?
or is it its own uniform?
I know of the Khaki Cotton uniform, but isn't that more like the HBT?
http://olive-drab.com/od_soldiers_cloth ... _khaki.php
here are the sites I have found for these uniforms:
http://www.toppots.net/main.php?do=clie ... ome&id=419
http://www.wwiiimpressions.com/usmcp41hbt.html
http://www.wwiiimpressions.com/usmckhakis.html
and
http://quanonline.com/military/military ... forms.html
then, there's the uniform they wear when flying...
and this is the one I'm most lost on, I can't seem to find anything. This is also the uniform I want to focus on the most.
I'm wondering if they wore basically similar uniforms to the USAAF?
I'm wondering when the A-4 vs the AL-1 vs the AN-S-31 were worn? I haven't been able to come up with much
here's some reference pics I've found:
I also found this:
http://www.rockislandauction.com/viewit ... 54/lid/465
that has a nice collection of gear.
and
http://militaryitems.com/store/index.ph ... 2eb1b034af
and sometimes it says it's WWII, where other references say the AL-1 for example wasn't around until the 50s?
the good news is this isn't my first foray into historical impressions, this is just the one that has the most personal and sentimental reasons. I also know how online plenty of people will add "key words" to help their sales, whether that article is accurate or not.
I can sew, and this aviator's cap:
actually doesn't look all that different in construction from the coifs I have made for medieval reenactment minus the parts for the comms.
finally, I found this website as well:
http://ww2-militaria-reproduction.com/s ... +Militaria
and their prices are really low in comparison to others, which unfortunately makes me cautious on their quality. BUT they do have gear that I haven't found anywhere else, including:
http://ww2-militaria-reproduction.com/s ... 1796&bc=no
http://ww2-militaria-reproduction.com/s ... =180&bc=no
http://ww2-militaria-reproduction.com/s ... =888&bc=no
basically I'm wondering if I'm on the right track and if there are any good sources for WWII USMC Aviator gear?
I'd really appreciate the help