Thu Apr 06, 2006 9:51 pm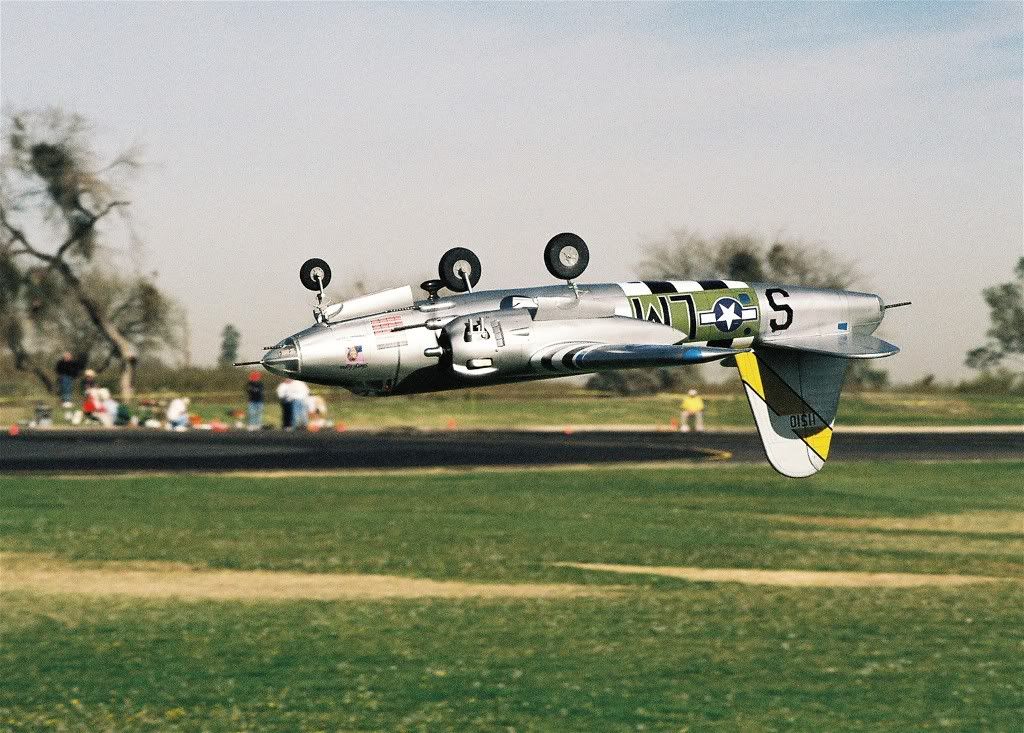 ...but it's supposed to be doing this. It's a B-26 Marauder stunter for contol-line aerobatics. When competing in control-line stunt, part of the pattern consists of seven inverted laps 4-6 feet high. They are supposed to be level laps and the Marauder is a little nose down here which enhances the appearance of imminent doom. Although this one isn't a great stunter, it's interesting to see something that looks so out of place among the other stunt planes being put through the pattern. Most semi-scale stunters don't usually look this realistic.
Last edited by
Elwyn
on Fri Apr 07, 2006 6:23 pm, edited 3 times in total.
Thu Apr 06, 2006 11:28 pm
uuuuuhhhgggghhhh dust pan please!!
Fri Apr 07, 2006 12:18 pm
i never could justify taking the time to build an rc plane to just auger it in to the ground. my buddy says thats part of the hobby. me?? i'll stick to the dust collecting shelf sitting variety models. my time is worth to much to see my creation smashed to bits.
Fri Apr 07, 2006 6:34 pm
Here's a more normal view. It was taken at the 18th meeting of the Vintage Stunt Championships held in Tucson in March 2006.
Tue Aug 22, 2006 9:20 pm
Nice. Pity it's not a real one.

Cheers

Andy
Tue Aug 22, 2006 11:07 pm
Cool photo! Do the gear and flaps go up and down? How complicated are these planes?
Thu Nov 30, 2006 1:59 pm
This one has fixed gear, and since it's a control-line stunt ship the flaps work up (above the wing trailing edge)and down. They move the opposite direction of the elevators. The flaps are also full span and not to scale. The builder put a lot more detail into the model than would usually be expected with a semi scale stunter but the results were worth it.
Thu Nov 30, 2006 5:16 pm
How the heck do you get them inverted without crashing?
Thu Nov 30, 2006 6:29 pm
Django wrote:How the heck do you get them inverted without crashing?
By crossing your fingers
and
praying!

Fri Dec 01, 2006 11:31 am
Usually you go inverted from half an inside loop or a half outside loop if you start a little higher. Or you can do a wingover and just pull out inverted instead of right side up. Here's a video of someone practicing the stunt pattern . Caution for dial-up users-very large file.
http://www.stunthanger.com/uploads/sparky1.wmv
Fri Dec 01, 2006 10:03 pm
Good video. I have'nt seen any one flying a "serious" U-Control in ages. Seems flying fields were everywhere in the forties and fifties then everyone went RC. The guy can fly. Thanks for posting the video link.
Tom
Sun Dec 31, 2006 12:29 pm
Pretty cool, But I wonder how many he dumped learning to do that.
Mudge the curious

Thu Apr 05, 2007 12:07 pm
A company named Brodak, in Carmicheals,Pa hosts the biggest control line event in the world in june..goes on for 5 or 6 days in his big backyard..has a bunch of flying circles in back of his "factory"...its areal hoot if yur into that stuff