Then I beetled back to Edenvale -- and if anyone accuses me of intercepting a Tiger Moth and flying formation for a while, I deny everything (it was some other F-24W!) -- and got up in the BT-13 again.
I found it much easier to do a roll with 2 hands on the stick. You need that last inch of stick movement to make it happen at a reasonable rate of rotation, and it takes a bit of a push. It does lovely Chandelles and Lazy Eights and max-climb-180-turns.
Next day I trundled down to Burlington and completed Scott K's checkout on the Canuck. Good fun on pavement trying to watch him keep his over-large feet on the bottom of the pedals to avoid brake use. Nice job.
When near the ground, "your feet should not cover the Fleet".
Here's a photo of me in the Canuck from years ago, a photo shoot with Eric Dumigan.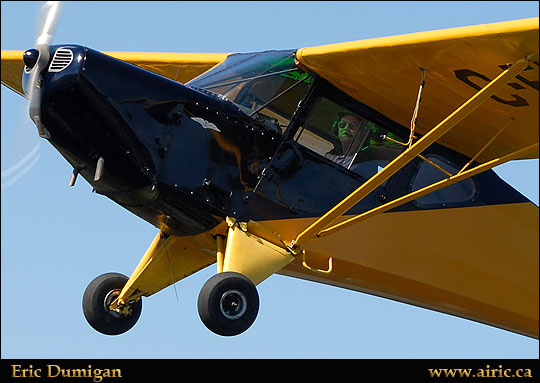 more at
http://www.airic.ca/html/fleetcanuck.html
One of these things is not like the others... (at Burlington).
After which I went back to Edenvale and met my wife in the RV6a as she taxied-out. So I swung around and followed her, and watched her from above at Collingwood as she wrestled with the strong crosswinds that day. (I do love that paint job!)
A few weeks ago we visited friends via RV6a east of Trenton ON, and parked at the old BCATP airfield, then called Deseronto, now run by the Mohawks and called Tyendinaga. The verge might soon need a trim.