Tue Sep 18, 2007 4:28 pm
I stopped by the paint shop yesterday to check on the Hurricane. Looks like everything is painted with needing just a few tweeks. She really looks great...I cant wait till we start taking off the masking! Now its about time to get her back over to the hangar and start getting her put back together! I will see if I can get some pics going as soon as we get going!

Wed Sep 19, 2007 12:52 am
Pics Pics Pics!


Wed Sep 19, 2007 4:27 pm
Today we got her out of the paint shop and back inside the LSFM North Hangar. Its time to put her back together! We have to take a lot of the panels back off and remove masking thats underneath. Looks like we are shooting for the LSFM Flyday in November to have her back up and ready.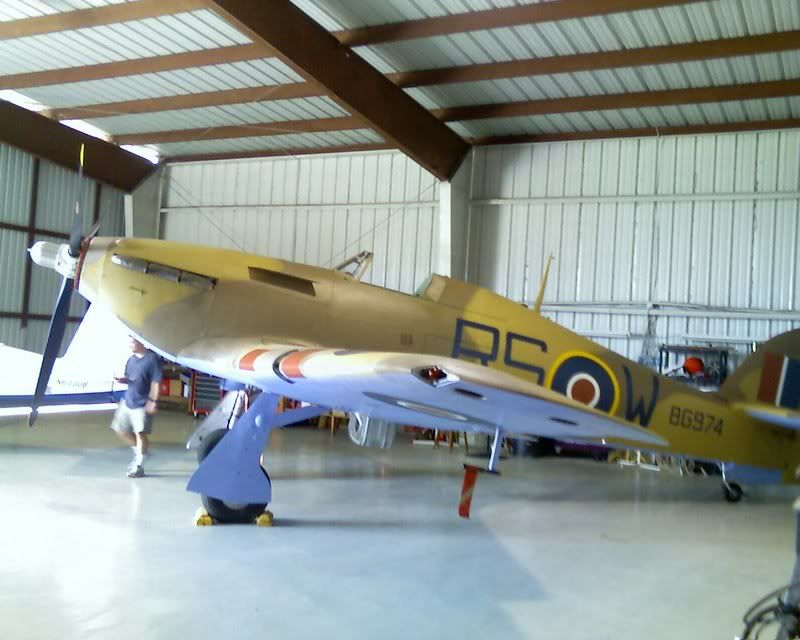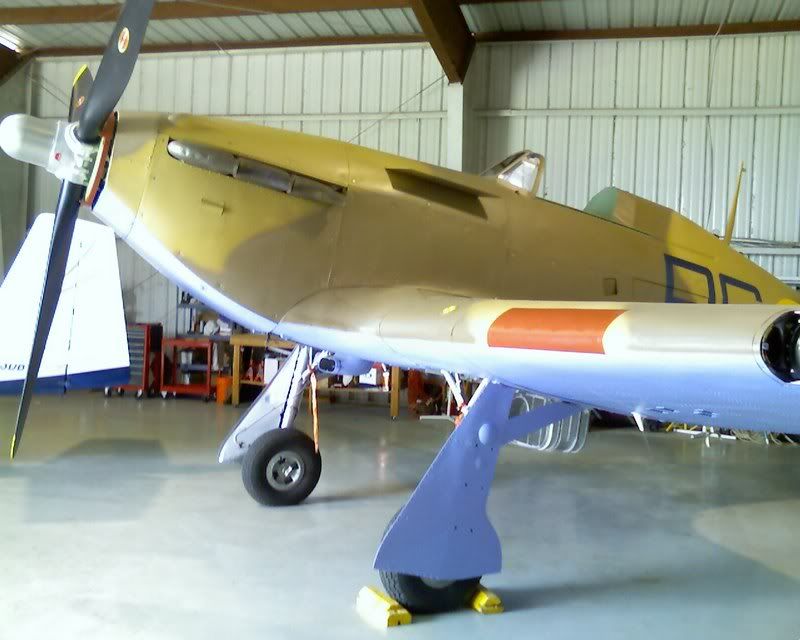 Wed Sep 19, 2007 5:04 pm
Too bad, I was hoping, not really expecting, to see it and maybe fly beside the Hurricane at Midland. Maybe it will be ready for the Lone Star show next spring. Anyway, it looks good and more authentic than a lot of waribirds. The BG on it looks especially sharp.
Thu Sep 20, 2007 1:34 pm
No hope for a WOH debut huh? Darn....
Thu Sep 20, 2007 4:32 pm
No she wont make WOH...just not quite enough time. But looks pretty good for Flyday at the Lone Star in Nov.
Wed Oct 10, 2007 6:06 pm
Today we started to remove all the panels and fairings. Just about every panel has paper and tape behind it that has to be removed. The canopy, ailerons and spinner still have to be painted but hopefully will be complete in the next several days. Tomorrow I shouldl be able to get some pics started of the process and give a glimpse of whats behind the panels.


Wed Oct 10, 2007 7:12 pm
Looking awsome!

You know you guys are gonna have to organize a photo flight with V.W.O.C.'s desert Hurricane!

That would be so cool!
Wed Oct 10, 2007 8:49 pm
Who knows?? Maybe Oshkosh '08!?
Fri Oct 12, 2007 11:31 pm
Hey Trae, when they fly the Hurricane down to GLS you guys could just buzz my house, I am just west of LVJ a little hahahaha. I cannot wait to see the Hurricane fly and was great meeting up with you at WOH!
Sat Oct 13, 2007 12:16 pm
Nice seeing you there at WOH Nathan!
Here are a few more pics. Some were taken soon as it was rolled outside of the paint shop.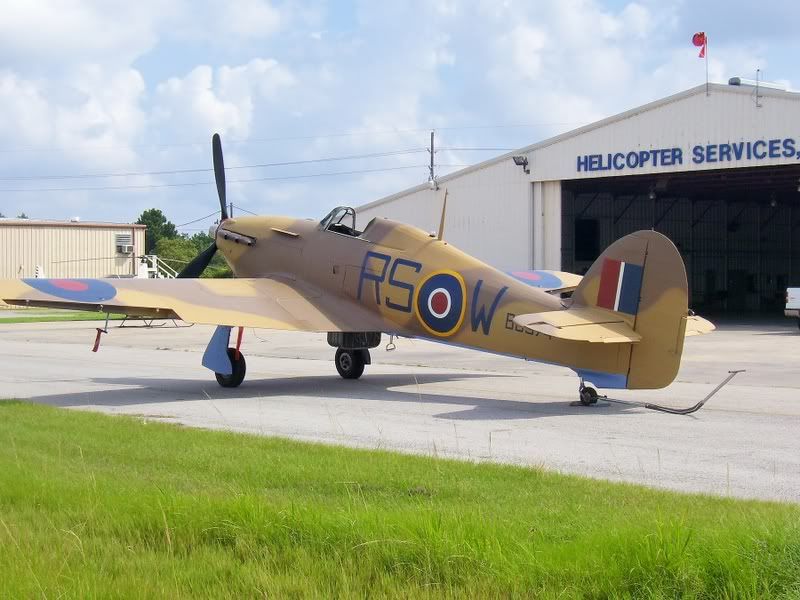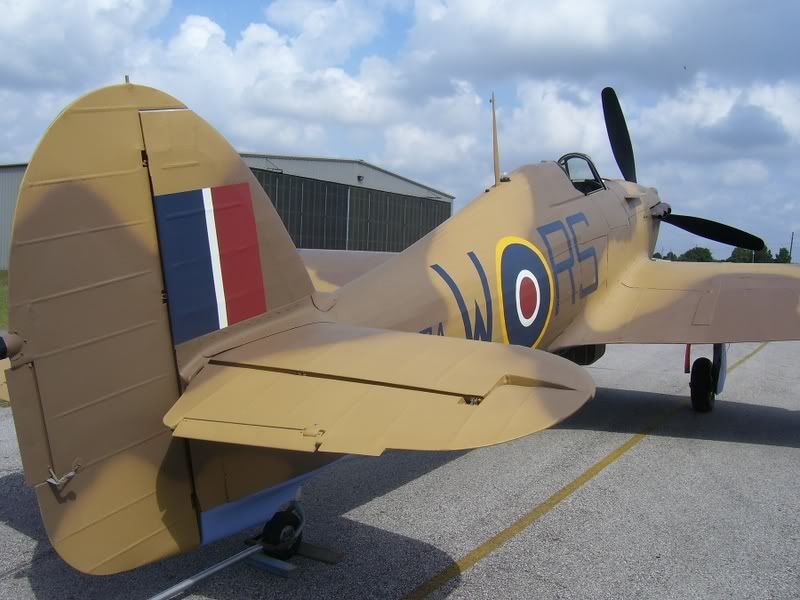 All of the removable panels have been pulled off. All of the masking and tape has been removed. There will be some touching up around some panel lines and access hatches. THe cockpit has been cleaned back up. Next week we will start to put the radiatior cowling and fairing back on.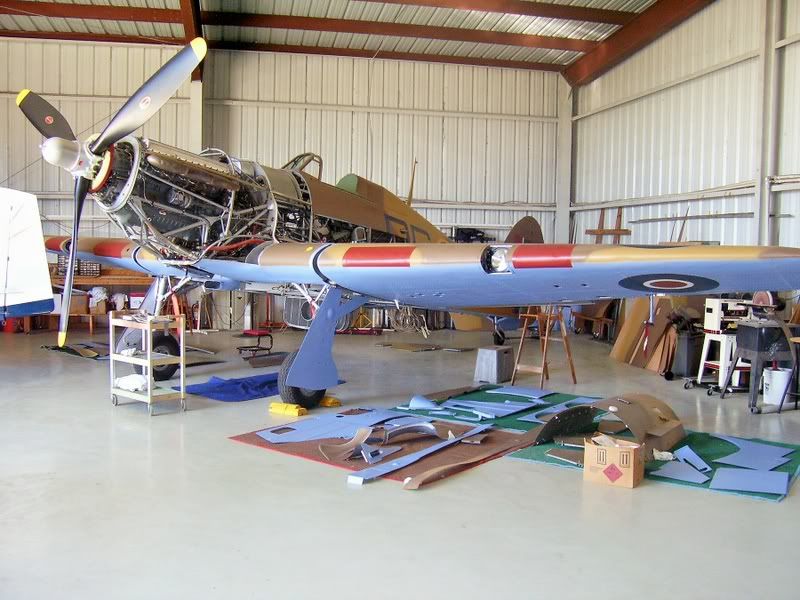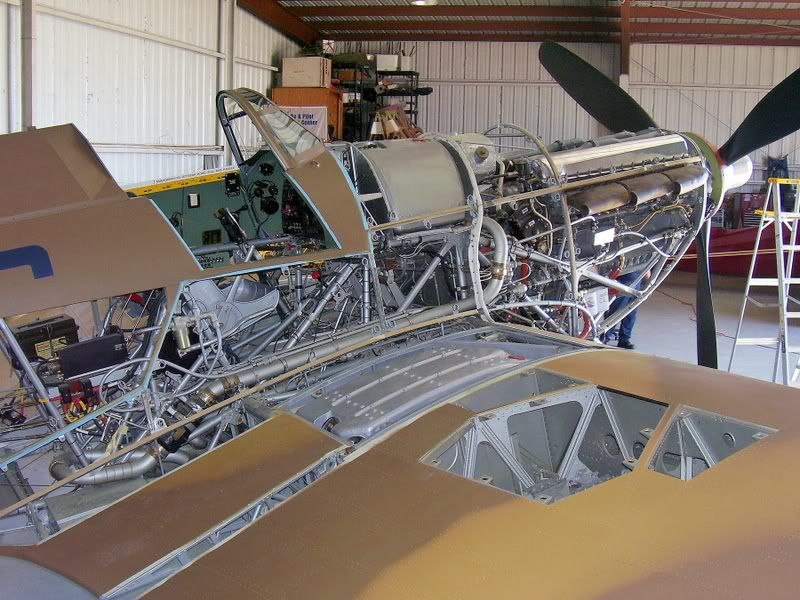 Sat Oct 20, 2007 7:23 pm
I think you should name it Katrina II, after one bad Hurricane!

Steve
Sun Oct 21, 2007 11:18 pm
That is so great looking that I think I'd enjoy just sitting in it. After seeing how long it took to get all that detail, I am really glad that LSFM decided to paint it pretty original. Particularly on a Hurricane a shiny paint job would not not look right. I am not sure I have seen that scheme before. It will be an award winner wherever it goes. I'd love to see it off my wing.
Sun Oct 21, 2007 11:32 pm
elroy any word on the gun camera you guys are interested in??
Mon Oct 22, 2007 12:33 pm
Tom I sent your email to the proper people at the museum. I will be down there this weekend. Let me see what I can find out.