Alright, here's the big update for you guys!
We'll start with the aft belly/floor repair which is 99% complete at this point, just one more strip to rivet on near the bomb bay which the guys are working on making currently. The guys sure did some great work here!
Progress pics, up to about a week ago:
Next up is the wooden doors/tail gunner ramp for the aft tail. Don did an absolutely amazing job on the doors and frame!
I'll have to try and get some more photos of the nose section but here are a few for now, the guys have been working on cleaning up all of the equipment and installing it into the completed nose section.
And to go with the competed nose section we now have a partial FN-5 nose turret donated to us by the Bomber Command Museum of Canada in Nanton, Alberta and most recently, another almost complete FN-5 turret from the Canadian Museum of Flight in Langley, BC. With a bit of work and new lexan we'll have one mounted on the nose section in the near future!

Thanks again guys for the donations!
Lastly is where we're at now with the project. With the belly repair and nose section pretty much completed work has begun on dismantling the center section area and preping for the landing gear removal and eventually the separation of the center section so we can begin the huge task of replacing the spar webbing and floor that was torched out to mount 212 in the park.
Flap removal before removal of the trailing edge of the wing.
Engines de-cowled, they'll both be coming of the plane in November.
And lastly the view of the RH side right now with gear doors, valances, flap, etc. removed.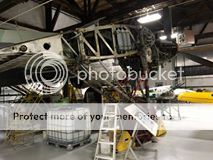 More to come!