Hi! My name is Arlen.
I was born on July 8th and this is my first post. I joined the WIX on July 10th when I was only two days old. My dad has been a long time WIXer, and I guess that I'm proof that it still works.

I went to my first airshow last May, but I couldn't see much from my vantage point unfortunately. All I remember is that I don't like F-16s very much, they're way too loud!

I kicked a lot.
I don't have a real plane yet, but my mom and dad have made sure that I have plenty of plane toys and clothing on hand to get me started in the right direction. My mom wanted my dad to use the following photo as nose art on his plane, but my dad refused: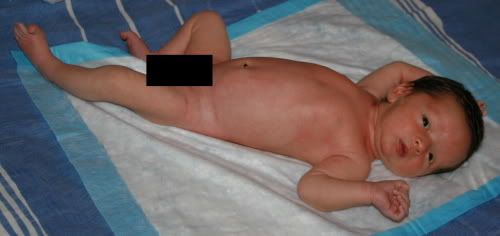 I guess my dad was afraid of having all those baby girls crawling after him at airshows.

I've been working out you know. Just because I know you can't get enough of me, here's a photo my dad took when I was only 35 minutes old:
Ain't I grand?

And who says there aren't any young people in aviation?

Take care for now, hope to see you at an airshow soon!
Keep 'em flying!
Arlen
P.S. I already have more hair than my dad!!!!!