Tue Oct 27, 2009 6:20 am
With the passing of our dear friend Gary, I thought a place where we could post pictures and stories we have of him would be appropriate.

If you have stories or pictures you would like to share of Gary, this is the place for them.

Gary, you will be sorely missed.
Tue Oct 27, 2009 8:15 am
I"ll remember Gary for the B-24 thread and his latest project, the Stratolina. He was a best friend to everyone and I loved reading his posts.

Signing off,
Nathan
Tue Oct 27, 2009 8:27 am
I knew Gary for quite a while. He was always nice to me and helpful. He taught me a lot about working on vintage airplanes, especially radial engines and I will always be grateful for that.

He was the first person that my daughter ever went flying with besides me. He gave me my first ride in a AT-6. The warbird community has lost a valuable resource indeed.
Tue Oct 27, 2009 11:57 am
I learned about this just after the first thread started last night, and I still can't comprehend it. Gary was so talented in his work, intelligent, a great writer, and it seems he got along well with everyone he came in contact with. It's so sad to think that this great of a person could deal with so much inside they think there is no way out.
One night a few months ago someone bumped an old thread titled (loosely) "What is your coolest piece off a warbird". I'm noone in the warbird world; the only time I see them, smell them, or let them drip on me is at airshows. When I saw that thread it was something I was able to contribute to, being a bit of a collector of warbird artifacts. Minutes after posting on that thread I got a PM from Gary. I had never interacted with him at all, yet he took the initiative to PM me after reading my post because he had a couple peices that he thought I'd like to have for my collection. Those small pieces of "scrap" metal most people would call garbage, and I'm way prouder to own them than most non-warbird people would ever understand. Gary was out of work at the time and was openly not in a good financial situation, but he went out on a limb to contact me and ship the stuff to me, and wouldn't take any money in return. I'll never forget that. It goes to show his heart and that he loved the people that love warbirds just as much as the planes themselves. I had always hoped to be able to thank the man in person.
To try to return the favor I built him a model of the first plane he built, the T-6 "01" because he had said how proud he was of it.
http://warbirdinformationexchange.org/p ... hp?t=31468
He seemed to be pretty pleased with it, and I sure hope the surprise brightened up his day like he said it did. I'd like to think maybe I helped him just a little that day. Noone here can blame themselves for what happened, and I have no doubt that all the words of encouragement and support he got from WIXers over the years helped him get through the day and made life a little easier for him.
Gary, I hope you're up there reading everyone's thoughts here. The world will miss you.
Greg
Last edited by
WIXerGreg
on Tue Oct 27, 2009 4:27 pm, edited 1 time in total.
Tue Oct 27, 2009 12:22 pm
God. My phone started ringing this AM with the horrible news, and I've just been "gutted" since then.

Gary was so gifted on so many different levels, as an "old airplane artisan", but also as a teacher and a leader. I will never forget having the honour and privilege, with Shae, of doing some small part of the Ol' 927 refurbishment in 2007 under Gary's direction. He was such a blast to hang out with, and I shall ever treasure that his path and mine crossed for a time.

Gary, I'm so sorry...I hope you found the peace that eluded you here. Know that you are and were loved, and you touched so many people.

The planes he helped to keep flying, and the standards he imbued in those he taught, will remain as a testament to a man whose passing has left us all poorer.

Blue Skies, Tailwinds, and CAVU forever Gary. Loved and Missed...
Tue Oct 27, 2009 1:13 pm
Wow.., i am totally speechless!!!!!!!!!!!!!
"Enjoy every sandwich!"
Warren Zevon
Tue Oct 27, 2009 1:28 pm
DOOP
Last edited by
the330thbg
on Tue Oct 27, 2009 2:11 pm, edited 1 time in total.
Tue Oct 27, 2009 1:52 pm
With the exception of his friends in Breckenridge and back home in Memphis, I doubt anybody here knew Gary longer or better than I did. Unlike most of the people here, I actually knew him as a person and outside of the internet. He was not someone that I just emailed or talked to on the phone once or twice. He was one of my dearest friends and I count that as one of the biggest blessings in my life. The details of how he ended his life don't need to be talked about here, or anywhere. I hope that the people that do know what happened, like me, have the decency, respect for Gary's memory and Christian courtesy to not spread it around.

When I saw the original post about his death, I knew what had happened. I even told my wife that. I contacted the poster and asked if he had details but he didn't. I made a phone call and left a message with somebody that I knew would know what happened. I had just finished contacting the original poster a second time when my phone rang. The individual who called me told me the details my friends death. A few minutes later I received one from my squadron ops officer. He'd had a call from our maintenance squadron with a message to contact a mutual friend of Gary and I down at the CAF in Midland. They had been trying to contact me for some time, even going as far as trying to contact my parents to get a hold of me.


I knew this was the path Gary was headed down. We had talked about it several times over the last few years. These problems started a long time before he ever started working on warbirds. Two weeks to the day prior to this tragic incident, I spent about 8 hours at Gary's house. After that, we drove over to my parent's house in Big Spring and spent several more hours having dinner with my folks. During that last day I was at his house, while we were digging through the treasure trove of aviation junk he had, he made several statements that looking back, told me this would be the result. In retrospect, it wasn't a cry for help. He was telling me what he was going to do. Gary didn't want help. Gary was tired of this life.

Gary told everyone that he had plans to move to New Zealand and work on warbirds when he cleared out all the parts at Austin Acres. I know this was true but I also knew he would never make it down there and he knew it as well. I knew something was wrong because he kept trying to give me everything he had at the house. He insisted that I load up parts and take them home with me. He tried to get me to take an entire trailer of stuff home with me. I ended up playing it off with a "I'll take everything the next time I come out". He asked what I was going to do when he left his Stratolina to me in his will. I laughed it off, he did too. We ended up sitting in his hot rod that he was building and discussing ideas for making it look more airplane like. We laughed about how funny it must look for two fat boys like us to be sitting in such a small truck. Like all conversations I ever had with Gary, even the most desperate ones, it ended in laughter and both of us agreeing and reassuring each other that everything would be ok. We had made plans to get together and start a real good inventory of his stuff at Austin Acres on the weekend of 14 November.


During the last visit to my parent's house for dinner, when it was time to leave, he hugged my Mamma and Daddy and thanked them for the best time he'd had in long time. He also took three tupperware containers of my Mamma's cooking home with him and told a hilarious story of eating a "varmint" he killed on the airport when he was a poor, self employed airplane mechanic back home in Memphis. We were sitting in the back seat of the car when my parents drove back to Midland to drop him off. He told me that he had always been envious of my family and appreciated them treating him as if he was one of their own.

I watched my friend deteriorate emotionally over the last several months. His problems got worse and he refused to take help from anybody. Just a few days before his death he emailed me to ask how my parents were doing. He knew Daddy had a recent knee replacement and he was driving through Big Spring and wanted to see if he needed to bring my parents anything from "the big city". He was also planning on staying for supper "If my mamma didn't mind".

I emailed him back and told him that my parents were expecting him for supper if he came through. On Wednesday he emailed and said he wasn't feeling good so he wouldn't be over. Thursday night I emailed him and told him that I had parking passes and crew badges for him if he would come to the Alliance airshow but I never heard back. Friday I intended to call him but I never did do it. On Saturday night, at the airshow party I thought about texting him and seeing how he was doing but I didn't. On Sunday I almost sent him a text message but just didn't get around to it. When we were flying home on Monday morning I was cleaning out all the text messages from my phone and found the ones from the Midland airshow weekend when I forgot how to get back to his house and he had to text me directions. As I deleted all the messages but those three about the directions, I thought to myself I really need to call Gary. I so wish now that I had.



There are a few things I'd like to point out about Gary.


Gary had the help of many, many people, mostly his dear friends in Texas and back in Tennessee in the past and up until the last moment. As recently as the Midland airshow, several of us sat down and talked about how to help him. This is something that had been done many times in the past. I have seen, with my own eyes, people physically try to help him. He had very professional help in the past and still had help on offer that he refused to take. Some of the reason was that he didn't want to be a burden to anyone and part of it is that he just didn't want to do anything about it. There were some other, personal and medical reasons, but I'm not going into them.

People can wail and gnash their teeth about Gary not calling them for help in his desperate hour. He didn't call me this time and it hurts terribly because he had called me many times before. He also didn't contact some of the other people that could help him until it was too late for them to do so. He did that on purpose. He knew we would stop him.

Gary knew his life was valuable. We talked about that many times.

Gary knew beyond a shadow of a doubt that he had friends that loved him. He loved the Ezell family in Breckenridge more than anybody and they loved him back. He has told me many times over the years that "the best part of my life was the time I spent working for Nelson Ezell".

Gary never forgot my daughter's birthday and never failed to ask about her. He had enough influence on my young daughter's life that she once told a tour guide at the Smithsonian, after he informed her that nobody was allowed to get inside the Enola Gay, that she didn't understand that because "Gary let me in his B-29." My daughter was a big fan of Gary and I still don't know how to tell her he's gone.

Gary never failed, not one time, to tell me to say hi to my folks for him.

My parents loved Gary dearly and are torn up about this.

Gary was in Altus a few months back and spent a good deal of time we were at dinner flirting with my wife.

Gary could sweet talk a woman unlike anybody I've seen.

A good deal of what I know about working on old planes came from him.

A long time before email came around, Gary always wrote letters to check on me when I was deployed overseas.

Gary believed in God and was big on praying. He did it a lot. Unfortunately, in the end, that wasn't enough.

Gary hoped that heaven looked a lot like New Zealand. We talked about that many times. I hope he's happy there.

Any time I go to cut a corner somewhere, trim the end off of a cotter pin or bend the pig tail on a piece of safety wire in way that wouldn't pass his muster, I will here Gary saying: "Now that's never gonna work! Nelson Ezell would never stand for that and I'm not going to either!" He's said that to me many times before.

For the rest of my life, I will miss my friend.


Call them demons, problems, tendencies or whatever you want. The simple fact is that Gary, in addition to a few other minor health problems, had very serious depression that was getting worse and he refused to take the proper treatment for it.

The very sad and absolute truth about my dear friend is that he was stubborn to a fault. In his personal life, just like it was in aviation, things were done Gary's way. Sadly, it was like that up to the last minute.

I loved Gary as much as I could love a guy (in a non San Francisco sort of way...Gary would think that line was funny) and I'll be a very, very long time in getting over losing him.

As for now, I'm taking a C-17 to the Houston airshow and trying my best not to feel sorry for myself. Because that's what Gary would want me to do.

Brad Pilgrim
Wed Oct 28, 2009 10:34 am
Here is a video interview with Gary talking about his aviation experiences for EAA's Timeless Voices of Aviation oral history program. I had hoped to have it edited for him (he'd just asked me about it a month or so ago). Listening to him talk as I edited the video over the last couple of days has been theraputic for me.
http://link.brightcove.com/services/pla ... 6700747001
Zack
Wed Oct 28, 2009 12:03 pm
This is one reason I will remember Gary, for his work on Keeping them Flying. I just wish I could have known him personally, but WIX kinda did that for me. Gary is the reason I am rejoining the CAF as soon as I can afford it. Its not the $200 its the money to join the wings I want to join. But I want to be around warbirds and Gary was an insperation to me and to others as well!
Wed Oct 28, 2009 5:50 pm
That B-24 is his lasting legacy. I'll never forget the small squares of metal he sent everyone from the flightdeck window areas (removed during the restoration) as a token gift for our donations. A real classy thing to do. He will be missed...
Tue Nov 03, 2009 8:38 pm
I really was not seriously shooting Wings Over Houston, and the cargo heritage was one of those backlit events that I just sat back and watched. I seem to rarely take the time to smell the flowers while at a show.
I spied "JATO Kato" Hong by the runway and took a long shot as I saw the C-17 passing him. In looking at my shots later, I found something that caught my eye.
If you look carefully, the C-17 has:
"THE
SPIRIT OF
GARY AUSTIN"
written on it in a fitting memorial.
Nice work, Brad! (sorry for the backlit, low quality shot)
Tue Nov 03, 2009 8:55 pm
I just found that I still had these online, so I figured I'd share them.
I only got to spend "quality time" with Gary once at the Summer Staff Conference in 2008. There, I met Gary, his then new replacement as B-29/B-24 Squadron Crew Chief Dave Miller. That day I also got the honor of presenting Gary with a special momento from the WiX guys for the work he did on the B-24 and letting us into his "world" during the process. I put the pictures of Gary and Julian on the other thread, so I'll just put the Staff Meeting picture here.
First, the poster -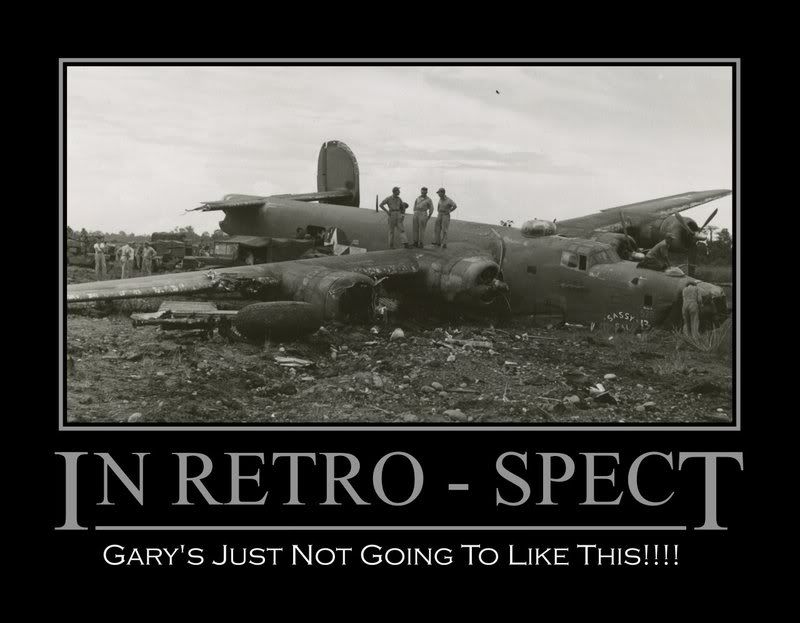 And Gary -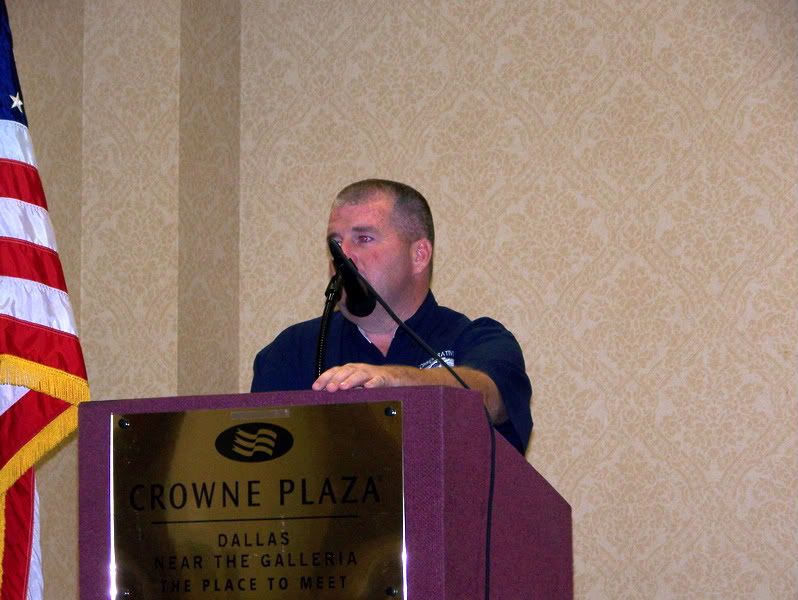 Wed Nov 04, 2009 10:08 am
I didn't know Gary that well at all. Just whatever interaction we've had over the last three years that i've been crewing at the races. I was absolutely floored by the news when I heard. What a talented guy, and a huge loss for the warbird/racing community.
Mon Mar 01, 2010 1:09 pm
Check out this pic and look over the rest of the gallery.
Credit to Owen Ashurst. Found over at the AAFO site.
http://www.owenashurstphotography.com/A ... B8vD-X3-LB
We really miss him.
Sully