Sun Apr 15, 2007 8:43 pm
retroaviation wrote:
henning...Regarding the sale of the CAF Harpoon, I don't know the exact details, but I know there are folks here on WIX that do. I'll leave it up to them if they'd like to expand on the current status of it.

Gary
Ditto Henning. The one point on which I can elaborate is that the Wisconsin Wing is intact and is making plans for the future.
Sun Apr 15, 2007 9:03 pm
Pooner wrote:Long live the ugly 'Poons..... darn awkward looking on the ground but quite striking in the air.
Maybe I'm a sicko or something, but I like their looks even on the ground!

I've always been a fan of the Ventura/Harpoon line, and I'd love to see some of them touring the air show circuit some day!
Cheers!
Sun Apr 15, 2007 9:22 pm
Hey Pooner, I believe I may just know you. Is that you Robert?
Mon Apr 16, 2007 6:58 am
FYI-RE LSFM Harpoon- It is currently a static display and would need a complete mechanical overhaul prior to flying again. Luckily it is quite complete.

Steve
Mon Apr 16, 2007 10:25 am
So lets see some pics posted of everyones Harpoon. I'd love to see them.
Also, if any Harpoon owners want the assembly or parts manual in electronic format I have them both in PDF so PM me.
Ryan
Mon Apr 16, 2007 11:40 am
Although these photos are a few years old, this was about as far as the Wisconsin Wing progressed on their PV-2D.
http://www.cafwi.org/gallery.htm
A real shame, as she was taken down to bare bones to be restored from the ground up. I have every reason to believe that she will be going to a very good home though!

Mon Apr 16, 2007 11:49 am
Hi all! I am sorry, as soon as I can talk my wife into doing it, I'll post some recent pics of N7458C, and my progress in getting het moved. Ryan, I would be VERY interested in any manuals on the Harpoon!!!! I do have the 900-some page erection manual...(EED-3??) Pooner, again I thank you for your guidance! What brand of beer?!!! As I am away from home(Texas for today) , I will try to get to a computer as often as I possibly can.... Thanks for your interest!
Mon Apr 16, 2007 3:58 pm
I'm really getting a new lust on for the ol' poon. Sentimental, but dangerous at the same time, ya know? You guys ever get that?

Mon Apr 16, 2007 4:25 pm
I always loved the artwork on some of these kites.....
Martin
Tue Apr 17, 2007 5:58 am
"Hot Stuff" PV-2 BuAero 37396 N7265C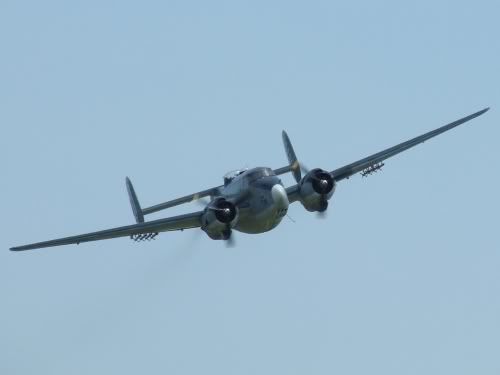 See her in the skies over Cherry Point the first weekend of May.
Wed Apr 18, 2007 7:20 pm
That is real interesting, I am a life member of the CAF and I had no idea the PV-2 of the Wisconsin Wing had been sold. The only thing I had heard was that it was up for reassignment, not for sale. Kinda makes me wish I knew who makes these decisions to sell "Our" aircraft (i.e. the Buchon, PV-2, A6M-2, attempted sale of the P-82 and there are probably others I don't know about).
Wed Apr 18, 2007 8:07 pm
If I lived on that side of the state, I'd volunteer to help restore it with you.

Rich Dann
Wed Apr 18, 2007 8:24 pm
Ditto what Col. Duck said. Yea the Buchon and Zero were a bitch to fly, at least the Zero was replaced, and the Buchon is not a German plane , but what the he11 is wrong withe the PV2. Selling it would be a disgace to the whole mission of the CAF. Why not sell Red Nose, at least we have two other mustangs. Just when you think the orginization can't do anything any more stupid here they go again. OK general staff members defend yourself, I'm listening.
Wed Apr 18, 2007 8:27 pm
Obergrafeter,
What replaced the Zero?
Wed Apr 18, 2007 8:32 pm
Unless they lied to us again the Zero at Camarillo. I understood it was ours, but I have been lied to before. Wouldn't surprise me to see it registered to DP