Tue Oct 25, 2016 11:33 pm
It's getting closer to time to light up the cockpit and make noise. It is a beautiful thing... oil smoke and 2800 cubic inches of noise on each side. There could be an argument made that it is better hearing it from the outside, but seeing all the gauges move plus the noise from inside the cockpit gets my vote.
Soon... for both!! Perhaps this weekend if all goes well. If not, then the following Saturday. JR
Sat Oct 29, 2016 12:15 am
Saturday will not be the day for engine runs this w/e. There are too many loose ends to tie up. The team will make every effort to have it ready to try on Sunday baring any glitches. Will announce tomorrow evening what the status is. Keep fingers crossed we can get back on track soon. The B-29 goes to New Orleans next w/e so we need to get this done before we get locked in behind her for winter maintenance. We have lots of small details left to do plus two big ones before taxi trials or first flight. Check back for a status report Sat evening!
Sat Oct 29, 2016 11:05 pm
Odds are 50-50 on engine start tomorrow. We are shooting for Sunday about 10 am if everything checks out. We will be out on the ramp in front of the Vintage Flying Museum hangar, Meacham Field. Come see us if in the area! JR
Sun Oct 30, 2016 5:12 pm
Engine runs completed today. Great effort from the entire Kay Krewe. Early indications are we have a few write up's to correct, nothing too serious. Hope to be ready for runs again next Saturday or Sunday. Go to the Special Kay facebook page for updates and video of today's run. The other JR really did a nice and smooth job on engine starts. Can't say enough about this crew. We hung the engine only two weeks ago, had to shut down for last weeks hangar dance. So great work all around.
Sun Oct 30, 2016 6:25 pm
And the video link will be coming up when?? .....

Sun Oct 30, 2016 7:16 pm
Good engine runs today. Can see on our public FB page:
http://www.Facebook.com/a26specialkay
The team outdid themselves today for sure! JR
Tue Nov 01, 2016 11:18 am

Both running smoothly! Thanks Lefty for this great shot. Lefty actually worked on Kay at England AFB in '68-'69 as a newly minted airman. He is now working on her again! Small world. Happy to have him. And a shout out to another airman who worked at England who bought the gas thru an auction of the great walking sticks he makes... Thanks Randy! We can see some light at the end of the tunnel now. JR
Tue Nov 01, 2016 7:47 pm
What an awesome photo! Great stuff!

Wed Nov 02, 2016 10:26 am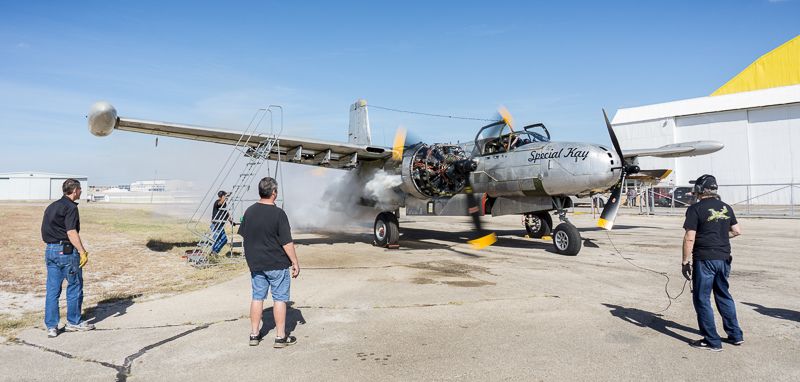 Here is "Lisa" our right engine that we just got back from the shop firing up for our test runs. She made some oil smoke for us and that was a beautiful thing. Crew Chief JR is on the headset giving pilot JR and Larry a play by play. We keep the ladder handy in case we need to get up on top with the fire extinguisher or the crew needs an escape path. We can go out of the bomb bay or swing off the wing, but that is a far drop for this old guy. Larry, on the other hand, climbs all over the airplane like a monkey. He used to work on F-16's so is used to it. We wrote up a few squawks on things that were not working quite right. Chuck and Larry have been working those off during the week as the Day Shift. The Weekend Shift will finish up anything left and we plan to run engines again while the B-29 is out of the hangar to New Orleans. Then it will be back to making ready for taxi trials since we still lack the emergency air brake system and engine fire extinguishing system. Stay tuned. JR
Thu Nov 03, 2016 7:06 pm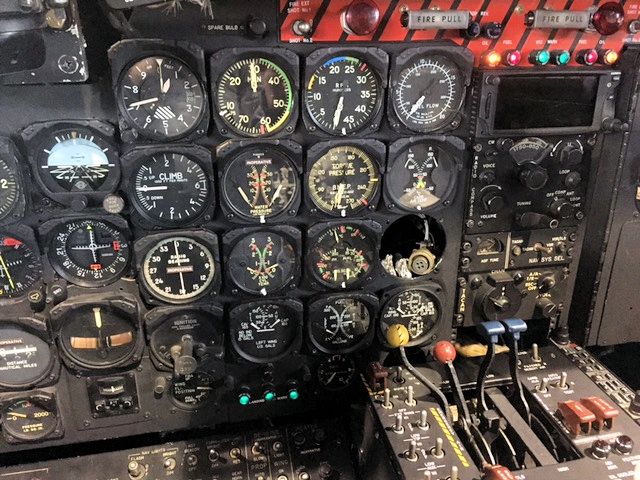 The cockpit is minus one each 3 in 1 engine gauge. Fuel pressure side went Tango Uniform. Of course it had to happen while we were planning to run engines again soon. My solution was to go caveman on the gauge with a bigger hammer, but Larry talked me out of it. It is just frustrating that about the time I think we have everything working, something else breaks. Fortunately, there are some nice folks at Century Instruments in Wichita who can fix it for us. Scramble Scramble Scramble! Bumfuzzled in Ft Worth, The Other JR
Sat Nov 05, 2016 9:05 pm
Success! Engines runs went well this morning. Video is posted on our FB page. No login is required.
http://www.facebook.com/a26specialkay
Sun Nov 06, 2016 8:34 am
Fantastic!! Well done chap's
Mon Nov 07, 2016 2:16 pm
Tromblay Machine built an immaculate set of dispensers for WHF "Bad News". Specifics on the munitions themselves and drift effects, etc are easily available through the Skyraider Assoc. The SUU-14 dispenser, in fact, was designed in Ft Walton Beach by the Aerojet company specifically for the A-1.
Ken
Mon Nov 07, 2016 11:31 pm
Ken, not sure if that particular CBU and dispenser were used on the K's. Maybe some of our resident gunplumbers can chime in here. Bob? Randy? The pictures of the cluster bombs that Bob sent me don't look anything like these. I would like to get a line on a flare dispenser that looks like three pipes bundled together.... that doesn't cost an arm and a leg.

Thanks, JR
Mon Nov 07, 2016 11:40 pm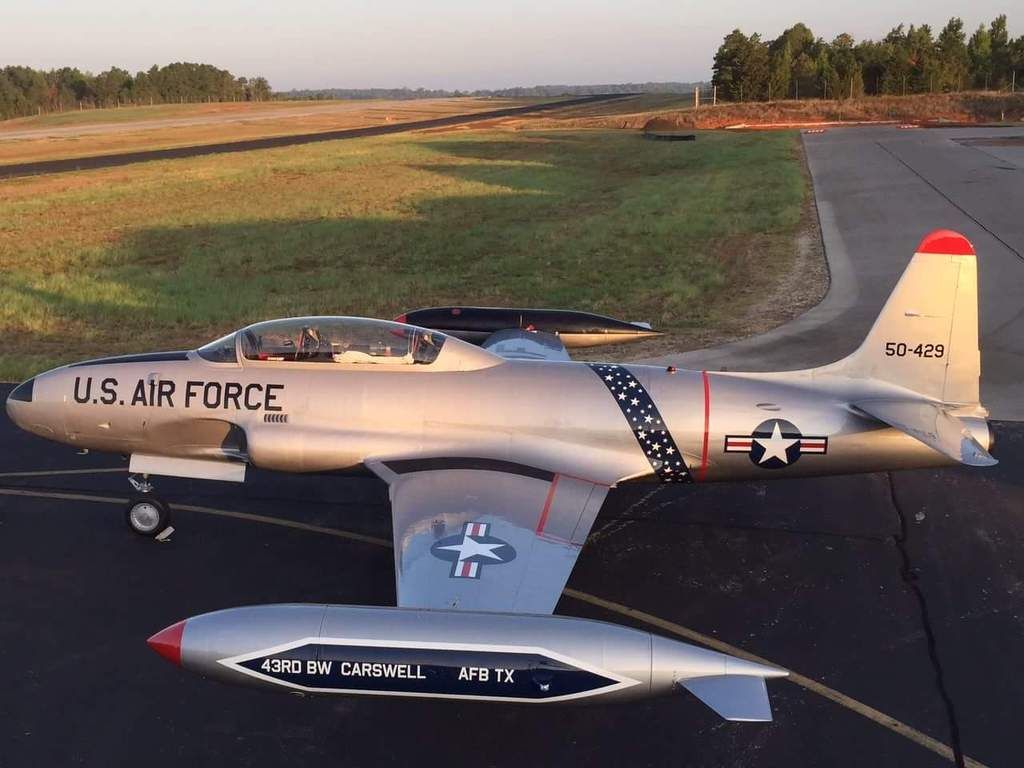 It's 8 Nov 1950, Lt Russell Brown has just shot down a North Korean MiG-15 in his F-80. This was the first air to air, jet to jet score in history. The F-80 or P-80 was developed too late for WWII, but led the way in being the first true operational USAF jet fighter. And to train those pilots, it didn't take long to discover the need for a two seat version. It was first known at the P-80C, but later became the T-33. So what does this have to do with Kay? Meet Kay's new chase plane. The airplane is based in the VFM hangar. So if you had a choice, which one would you rather fly or ride in, the A-26 or the T-33??? Be assured the Russians will not influence or manipulate your vote!

JR