Taigh Ramey wrote:
The engines are the last major project that is needed to complete the Harpoon besides the ongoing maintenance.
OK WIXers .. if you're reading this, you are probably (like me) an avid follower of the Harpoon 062 thread. You've seen Taigh and his Stockton Field team (and their friends across the country) work veritable miracles with just a little bit of money and a whole lot of dedication. However, these engines are at the heart of everything and now they need more than passion and elbow grease can provide. They need specialized expertise. They need substantial funding. They need a major sponsor.
And to my mind there is one logical, natural,and mutually beneficial name that fits that bill.
FORD MOTOR COMPANY
So I'm putting the thought out there, along with a challenge .. can anyone here connect Taigh with the right people at Ford with the desire to listen to a pitch and the authority to potentially offer support?
It doesn't have to be the CEO (though that would be nice!)
Someone in corporate communications/marketing would do very well.
Or maybe you're buddies with a guy who owns some Ford dealerships (especially in the Stockton area) and loves Warbirds as much we do.
Ideally, we could connect them with the person who coordinates Ford's presence at Oshkosh every year. I was lucky enough to fly with the Harpoon to AirVenture in 2013 and Ford was everywhere. From the gorgeous Trimotor giving rides ...
To Model T's on the flight line ...
And a massive tent front and center in the middle of all the action.
Clearly Ford is interested in reaching people with a love for airplanes (and cars) and willing to invest serious resources in making that happen. The company wants to remind people of its past and current contributions to national security, show respect to our veterans, instill justifiable pride in its professional workforce, and provide consumers with powerful examples of its high quality product.
Harpoon 062 can do all of that.
The engines in question were manufactured by the Ford plant in Dearborn, Michigan USA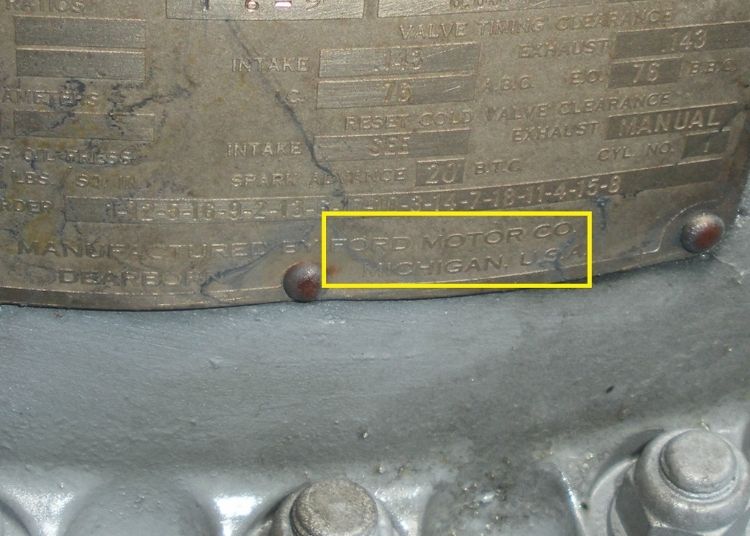 Seven decades later, they are still going strong .. a perfect embodiment of the famous slogan, "Built Ford Tough!"
With the proper care now, the Harpoon could go on for decades more .. spreading the message to teeming airshow crowds around the country on her Ford-built (and Ford sponsored?) engines.
What do you say?
Can you make the connection?
Do you know someone (or someone who knows someone) that can help Taigh and his team reach a receptive audience at Ford?
HARPOON 062 NEEDS YOU! (to help convince Ford to sponsor the engine overhaul)