Wed Aug 28, 2013 8:33 am
Great progress. She's looking great.


Chappie
Tue Sep 03, 2013 1:48 am
I bet they are starting to fill up cans of clecos for the first time in years.
Tue Sep 03, 2013 5:01 am
Kidjim, I did indeed enjoy those photos! Thanks!
Must have been really satisfying to have that radio hatch fit so nicely. Shows you folks are on the right track

I love "hang the expense"'s comment. Filling up cleco cans speaks volumes.
I'm really looking forward to you outgrowing the barn!
Andy Scott
Wed Sep 04, 2013 11:13 pm

Thu Sep 05, 2013 7:02 am


I LOVE IT!
Great work by the Desert rats (That have been freezing their a$$e$ off in a barn

)
Andy Scott
Tue Oct 01, 2013 12:26 am
Hope you don't mind, but I did some enhancement on your nose art:
Edit: Screw Photobucket.
Last edited by
Chris Brame
on Thu Oct 24, 2013 9:21 pm, edited 2 times in total.
Wed Oct 09, 2013 4:31 pm
Sorry about the lack of updates on the facebook page, but I can say with the utmost certainty that work on the Rat is ongoing and steady.

Fri Oct 11, 2013 3:59 pm
hey everyone.

i want to appologize first hand about the lack of updates here and on the facebook page.

life has been incredibly busy for me. (bought a house, planning a wedding, moving, and work) I am a flight dispatcher for United Airlines and this summer and fall they have had me working 6 day weeks most weeks as I am not senior enough to hold a line. Thus with all that I have been unable to get to the rat nearly as often as I should/would like. Also I live over an hour away from the worksite and it's a full day for me to go there.

I promise work is/does goes on nearly everyday. the cockpit area is progressing well (mainly in the top turret area) and from bulkhead 8-11 part replacement and riveting have been going on and there are ALOT! of parts on those bulkheads, brackets, pulleys, tabs, you name it!. The dorsal fin should be nearly finshed by now as that has needed much repair and replacement.

I will be getting up there soon as long as life allows and hopefully will have some photo updates. I will also contact mike and see if someone can get some photos on here other than Lucas or I. I know we are glad that the interest in the rat is there and we're working as hard and as fast as we can to get her in the air.

Most Sincerely,

James aka Kidjim25
Sun Oct 13, 2013 11:09 am
Hey Jim,
no sweat man. Best of luck with the house, wedding, job, life and everything.

Glad to know that the "Rat goes on". (certainly never doubted it, having seen pics from when Mike found her

.)
Give our best to the team!
Andy
Wed Oct 16, 2013 1:52 pm
I'm going to be working in Milwaukee this Friday and Saturday. Is the project available to be visited on Sundays?
Fri Nov 08, 2013 12:57 pm
hi everyone.
finally got out to the barn yesterday, looks like the guys have made some great progress in my absence!
Time for the photos!
tail fully riveted and being prepped for painting
dorsal fin nearly complete (new skins, and some new stringers, but original ribs and fittings)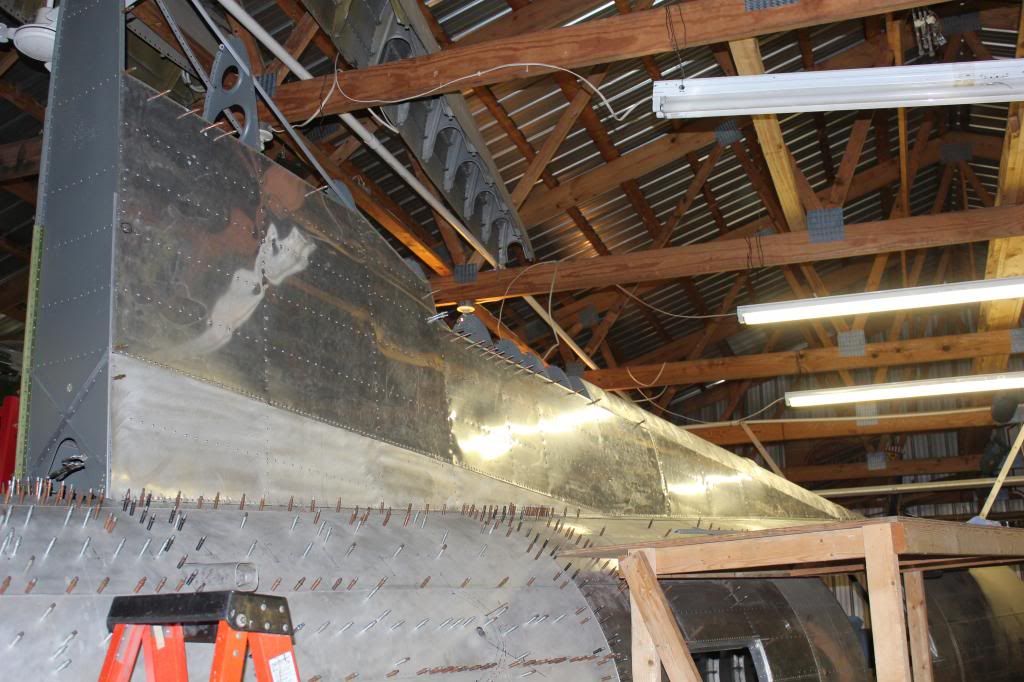 dorsal closeup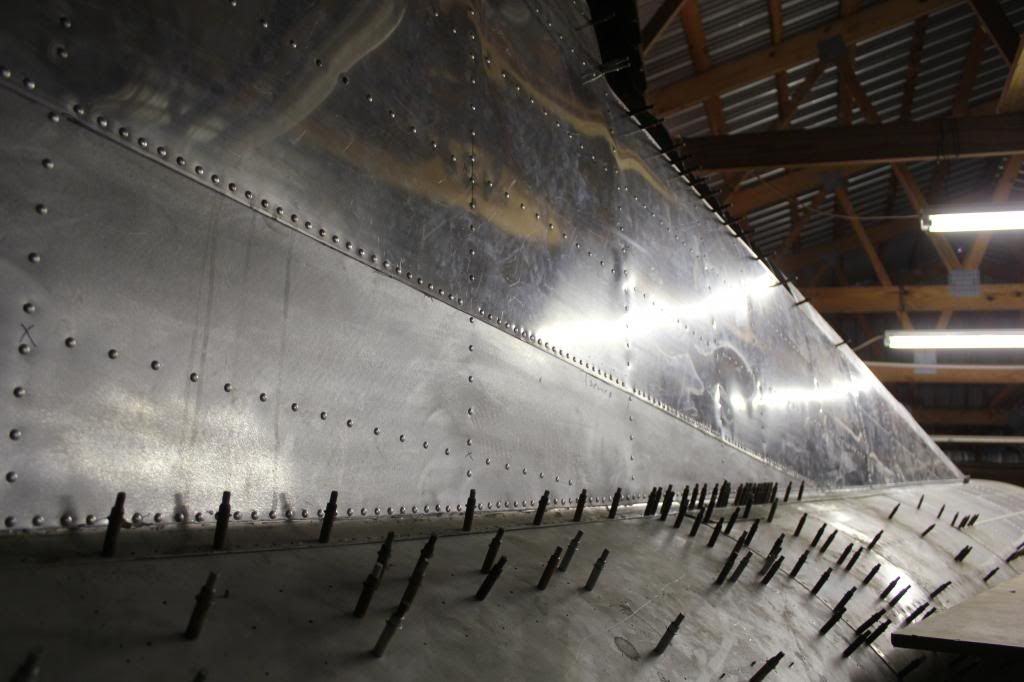 tail gun compartment access door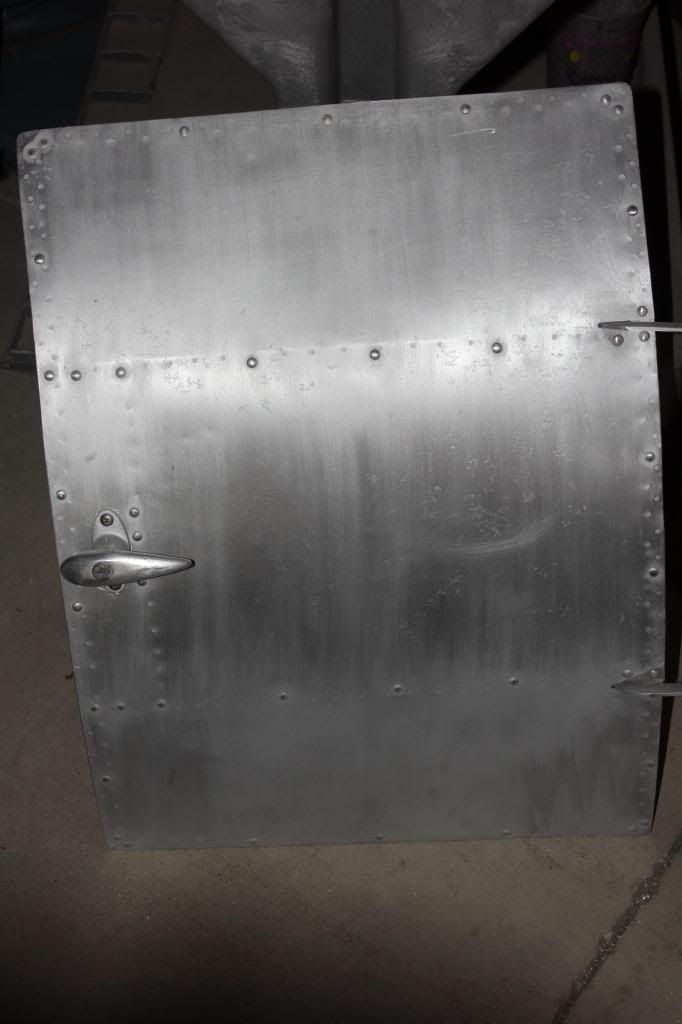 rudder control horn mount (bulkhead 9)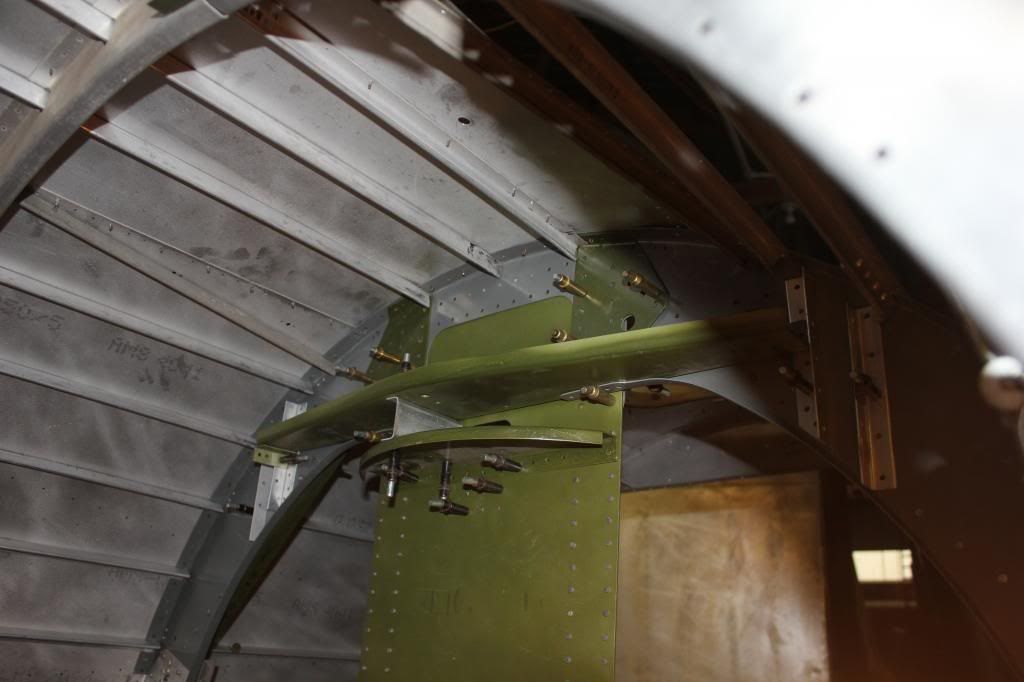 stringer repair and bulkhead fitting replacement between bulkhead 9-10-11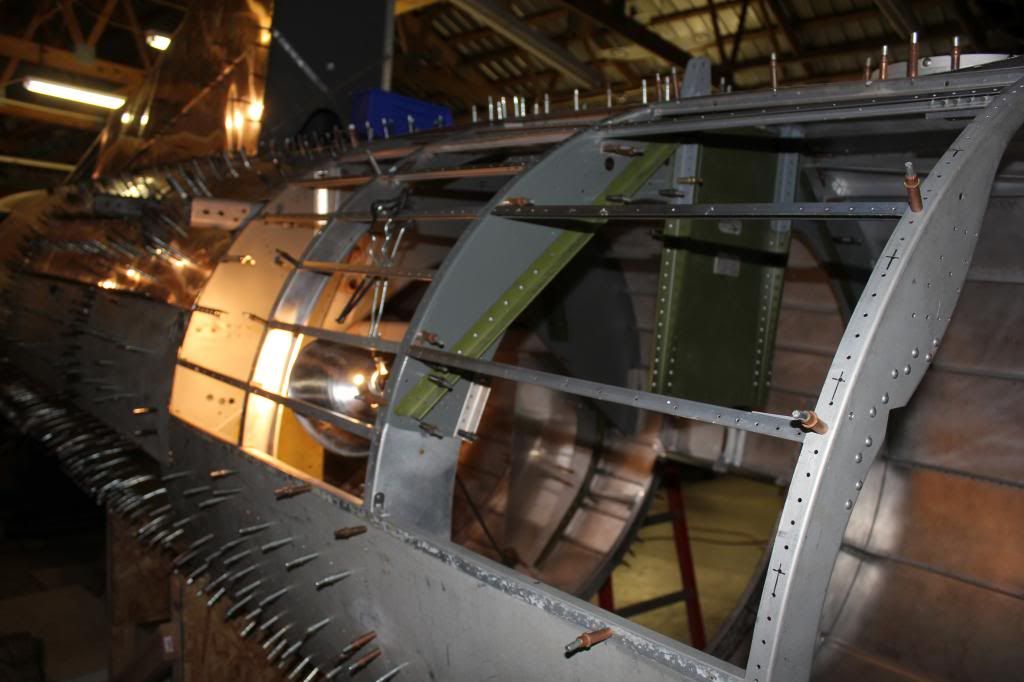 top turret area re-skinning complete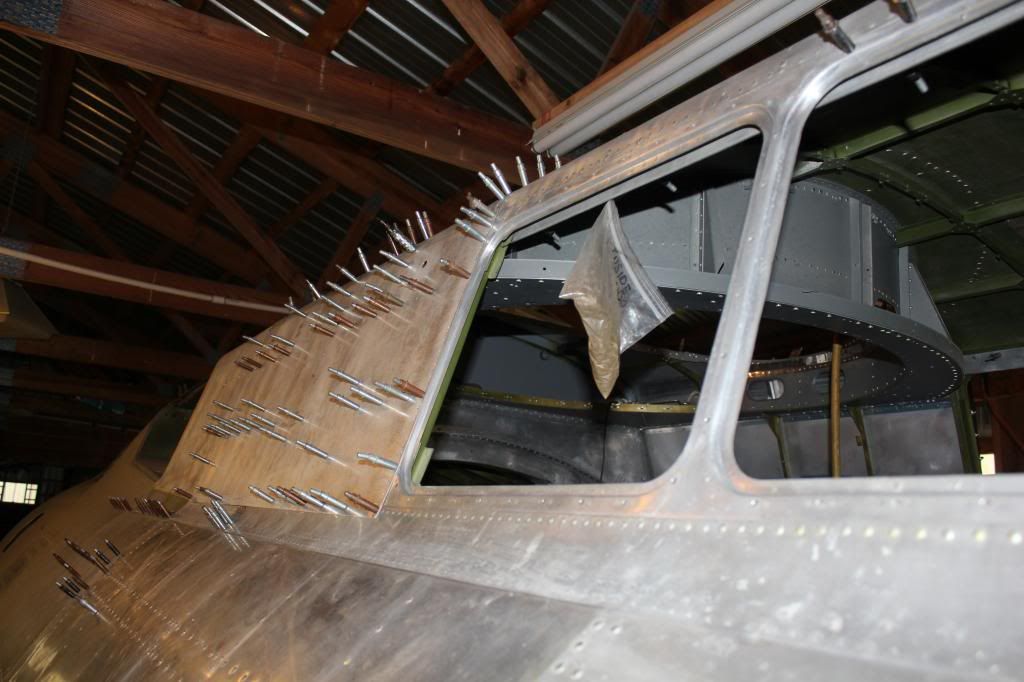 top turret ring installed!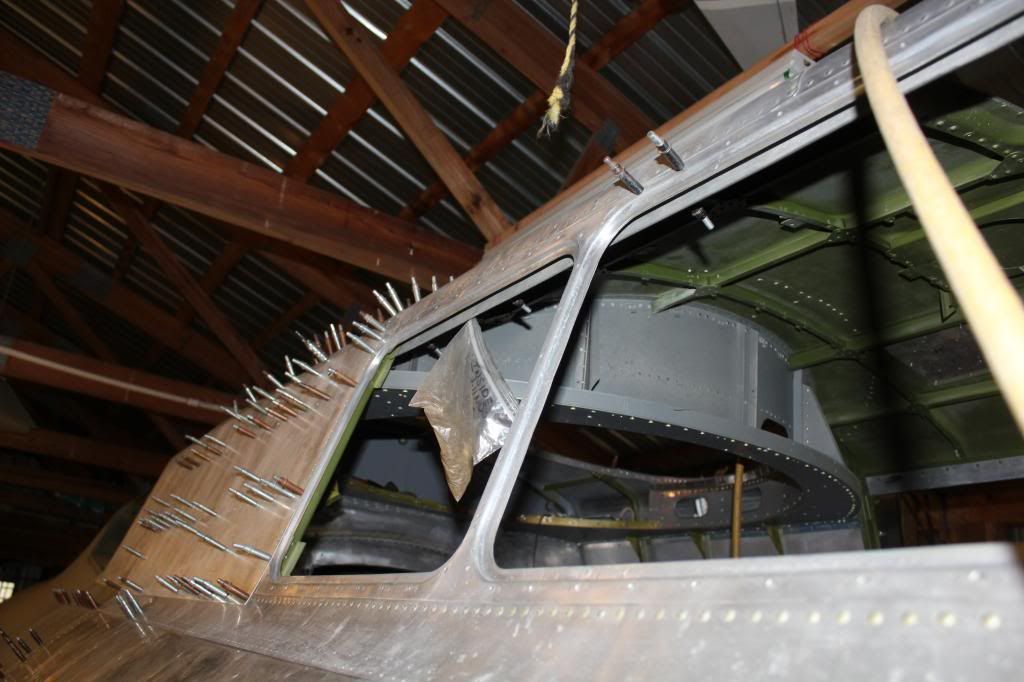 Fri Nov 08, 2013 1:05 pm
another fun item that arrived recently was the load adjuster case for the XC-108A!, which as many of you know is what the "Desert Rat/Tangerine" became. Now load adjusters were manufactured for each aircraft and there are still many out there for various types of cargo and bomber aircraft from WWII (personally I own a B-32 and B-17E/F case and adjuster) the thing is there was only ONE XC-108A.... There is an excellent chance that this case is THE CASE that went with our airplane. Also the name that is on the tag inside the case matches a gentleman that lived near Wright-Patt during the time that 41-2595 was there for it's change to XC-108A status. I don't know how the fates allowed this to survive but we may have one of the only ACTUAL matching case's to an aircraft still in existence.
I will post the whole story on how Mike accuired this unique item when I can sit down with him.
Sadly the adjuster portion is still missing so if anyone out there finds an adjuster for a certain Cargo/Troop conversion B-17E Please let us know!!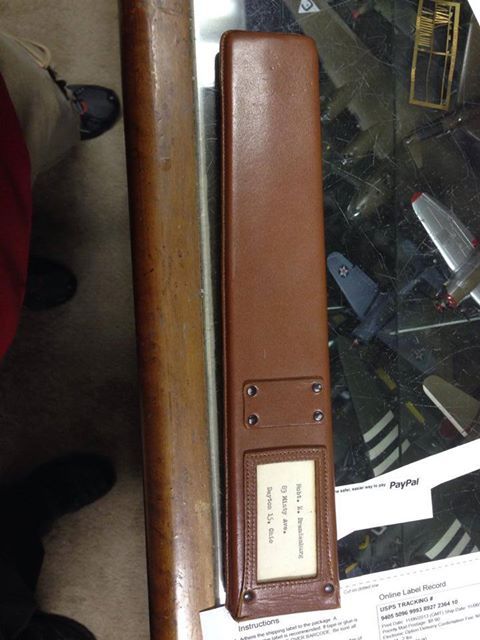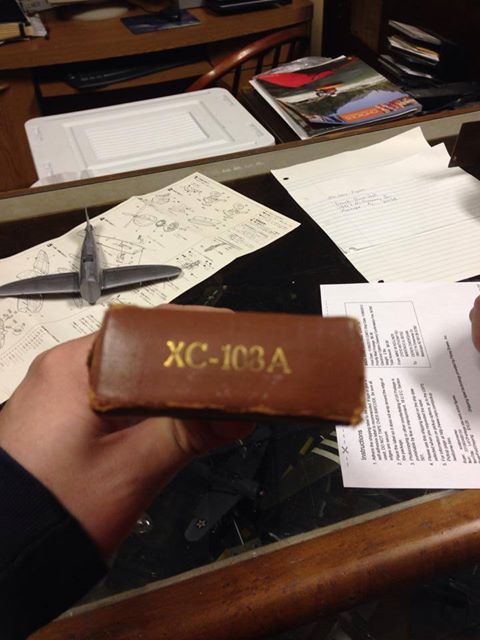 Tue Dec 10, 2013 10:16 pm

Work continues on the Rat almost every day.

To answer a few questions:
You can visit almost any day of the week, as long
as you email at least a few days in advance.
Sundays are OK, as long as it is past 2 in the afternoon.
(unless you clear an earlier visit with Mike)

Major progress on the rear fuselage, with BLK #7,
BLK #7 plus 4.3, BLK #8, BLK #8A, and the bottom of BLK #9
and BLK #10 being replaced due to corrosion issues.

It is amazing how it is coming together.
If you would like to help, then read on:

We are looking for:
RIVNUTS, specifically:
NAS1329A06KB75
NAS1329A06KB120
NAS1330A06KB106

PM me if you have some and are willing to sell/donate,
or know where to get them without having to hand over your first born.


Fri Dec 20, 2013 11:18 am
Man that's coming along nicely!!
Sun Dec 22, 2013 6:36 pm
Merry Christmas Everyone!
Here is the last photo update from me this year.
Its been 3 months since I have seen the project.
Enjoy.
Regards,
Lucas.
more photos here:
http://www.flickr.com/photos/ariagalact ... 927243395/