I am pleased to announce that "Shaky Magoo" arrived at the Vintage Flying Museum today! Thanks to all that took time out to come out and help, including Charlie Bathman, USAF helicopter veteran who trained on CH-21's and heard about the project via
http://www.rotorhead.org
and came out and got involved. We got her safely unloaded without hurting anyone or anything!
Now the real work begins, our first task is to find replacement tires so that we can tow it inside and start the restoration. One problem we have is that the tires are so badly dry rotted that we can't read the tire size on the side of the tires. Does anyone know what size tires a CH-21B uses? We've been told that they are the same as a T-28, but I have not confirmed that yet. The other item that we are in need of is a good set of manuals. I have found some online, however I don't believe that this is the complete set, but it is certainly enough to get us started. We are not restoring it to fly (unfortunately) so we don't need every single manual. If anyone would like to contribute, this is a good way. The manuals I found are here,
http://www.aircraft-manuals.com/piaseckih21.html
and each section averages about $10. If you would like a quick and easy way to contribute to the project please donate $10 via the PayPal link on the VFM website
http://www.vintageflyingmuseum.org/
or mail a check to Vintage Flying Museum 505 N.W. 38th St. Hangar 32S Fort Worth, Texas 76106. Please put "Flying Banana" or "CH-21B" on the memo line so we know to apply the funds to the CH-21B project. Please don't buy the manuals directly and send them to us. There is no easy way of tracking who is buying which manual and we would end up with duplicates and it could be a waste of money. We will have one person at the museum buying the manuals so that we get the most for our money.
Next to our other recent acquisition, EA-3B Skywarrior
Here's 53-04324 on the right in the '60's in Brazil. This is the paint scheme we plan to use when it comes time for paint.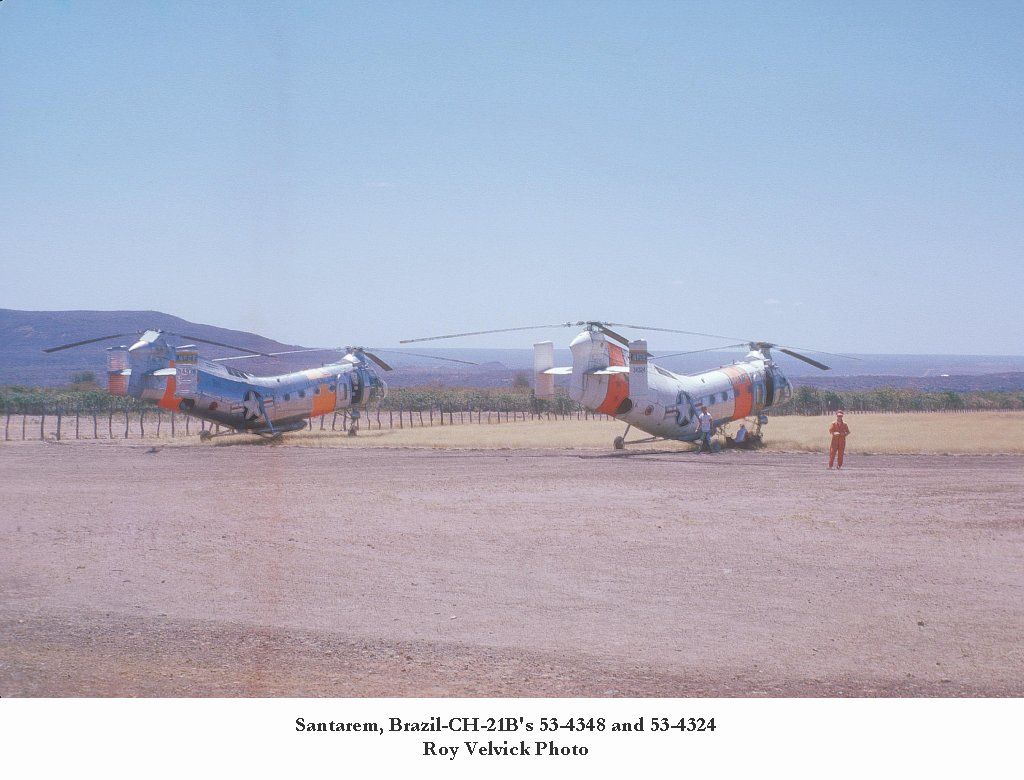 Thank you everyone for your support. I'll update this thread with restoration progress if anyone is interested in how to peel a banana, and then put it back togeher!