Hey Chris, like my T-shirt?

Thomas, I joined a club near my home. Edenvale Classic aircraft Foundation. They operate an English Tiger C-GSTP. Long story short I learned to fly tailwheel there on their Fleet Canuck and then learned to fly STP.
After soloing their Tiger I decided to join the Moth club in the U.K. Two weeks later I received the first issue of "The Moth".
Jokingly, and I do mean jokingly, I thought to myself "they have a classified section in the back of this thing (yeah, right, like I'm ever gonna own a Tiger).
I spotted this machine advertised in Pennsylvania at what seemed like a not astronomical price. I immediately picked up the phone and called Danny. "Hey Dan, have you seen this months Stockbox?" "Well look it up online, I'll wait" I heard the keyboard clacking away and helped him navigate through. After a moment to read the advert he said "I'll make that phone call right now!".
We arranged to go inspect her and basically she hadn't flown for a few years. Before that she had been leased to a flying club. Until 2009 she flew with this club and was even available for solo rental!
We decided that she did indeed need a fair bit of work, but nothing that we couldn't handle. We brought a third partner on board, Mike.
We came up with an offer that was acceptable to the owner and Mike, Danny and myself headed back to Van Sant with a trailer.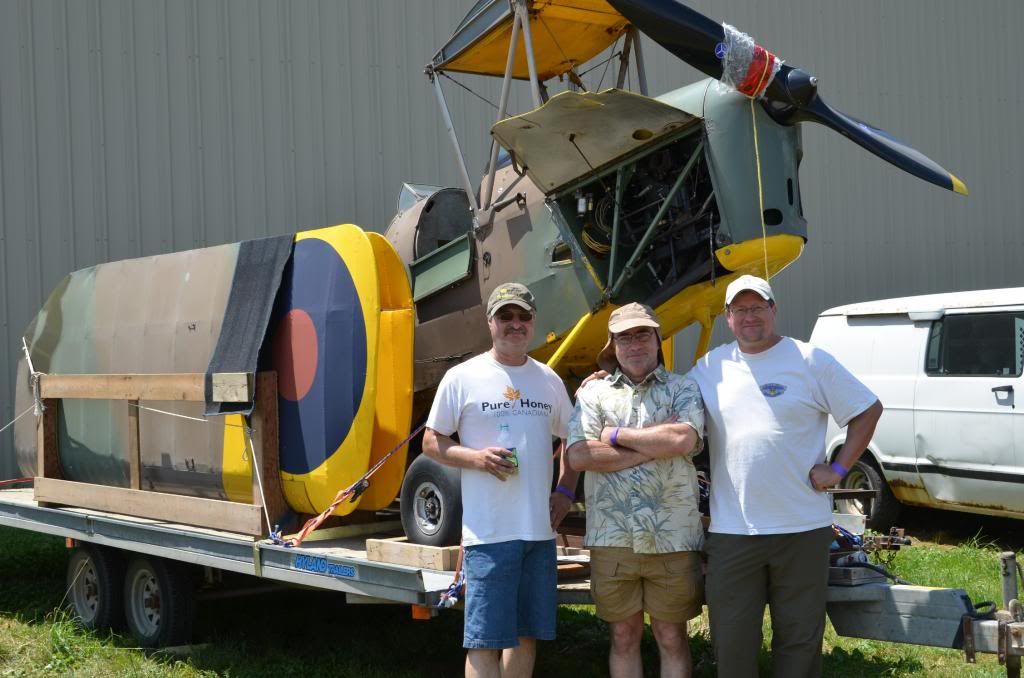 This is us at Geneseo with our prize on the trailer. Anyone can fly to an airshow

The fabric on the wings and fuselage passed the punch test. The tail feathers were a different matter. As Mike said "they look like a maple key"

They had evidence of a fair number of repairs and just looked tired. We stripped, inspected and re-covered the tail feathers. The wood was in great condition, although a little warped from age. All of the original British hardware was also in good condition and free of corrosion.
The top left wing had a previous repair that we were not happy with. We opened the trailing edge and re-did that repair to our satisfaction. This also gave us an opportunity to see everything inside this wing. The condition of the wood was excellent. Kinda gives us the warm fuzzies about the rest

We decide to just do some spot repairs on the fuselage. We figured we'd just touch it up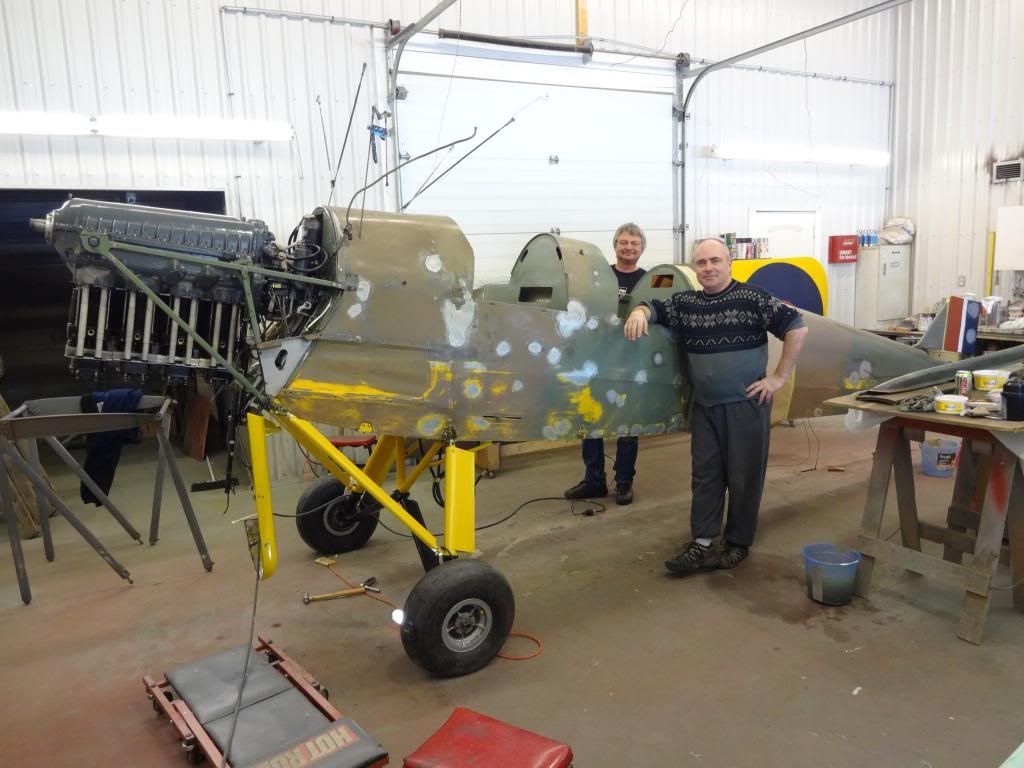 Well, you can see how that worked out. Mike and I came up with the bright idea to rejuvenate and respray the camouflage. We masked off the yellow fuselage band and left it as is (we wanted an aeroplane, not a project!)
After the fuselage got sprayed, it looked so good that we had to do the camo on the wings too. The result is what you see.
Don't look too close at the yellow though. There is about four different shades

We decided that the bottom of a Tiger moth is always covered with oil and bugs anyway so we don't really care

We'll be having too much fun flying our Tiger

Thanks for your interest Thomas. As I mentioned previously, wait 'til we get her flying, decide where she's gonna live, then shoot me an E-mail and I'd be happy to introduce her to you!
Our registration letters are, of course, the first initials of Mike, Andy & Dan