Also one of my all time favorites, congrats on a fine display piece!
Looks like the pics in the link are gone, so here ya go.
Photo from U.S.F.G.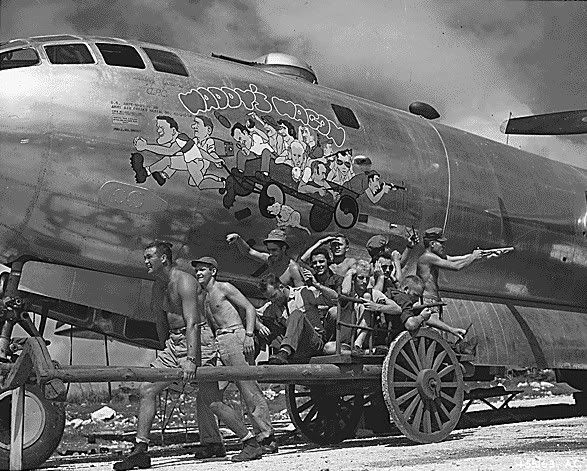 The crew of the USAAF Boeing B-29-40-BW Superfortress (s/n 42-24598) "Waddy's Wagon", 20th Air Force, 73rd Bomb Wing, 497th Bomb Group, 869th Bomb Squadron, the fifth B-29 to take off on the first Tokyo mission from Saipan on 24 November 1944, and first to land back at Isley Field after bombing the target. The crew is posing to duplicate their caricatures in the nose art. The crew (l-r): Capt. Walter "Waddy" Young/pilot, Lt. Jack Vetters/copilot, Lt. John F. Ellis/bombardier , Lt. Paul Garrison/navigator, Sgt. George Avon/radio operator, Lt. Bernard Black/flight engineer, Sgt. Kenneth Mansie/flight technican, Sgt. Lawrence Lee/gunner, Sgt. Wilbur Chapman/gunner, Sgt. Corbett Carnegie/gunner, Sgt. Joseph Gatto/gunner. This aircraft was lost on 9 January 1945. Date 1944
Sad story about brave men!
Robbie