First, here's a
short timeline of GSE
Clarktor Tug at Unknown Museum
Source:
Aircraft Tugs - G503.com
Harlan Tug with Baggage Trailer at Syracuse Hancock International Airport
Source:
MUSEUM MONDAY: DISCOVER THE AIRPORT! EXHIBIT AT SYRACUSE AIRPORT
Unknown Tug at the Classic Rotors Museum
Source:
Full Time Photo Gallery - Jan 2006
493rd Bomb Group Museum
Bentwaters Cold War Museum
1986 Jeep CJ-10A Aircraft Tug - Marked as "85C 504", Restoration Thread
1960s MB-4 American Coleman Aircraft Tug - Donated by the Vulcan Restoration Trust
1964 International Harvester Bus - From RAF Upper Heyford, former USAFE
Estrella seems to have updated their website, and as a result have listed 3 more tugs on it. One was
noted previously in this thread
with its own page on their website and is not included below. Another of the tugs listed below (marked as #3) was also
pictured in this thread previously
, but without its own page. Finally, a third tug (marked as #2) pictured with the latter is does not currently have a page on their website. In sum, it appears that the EWM has, or had, at least 5 tugs.
Cheating on the narrow specificity of this thread a bit, here are a few in non-aviation military museums:
Federal F-55-AF 1954 at the "ArmyCars Museum"
- museum has since been
reported as being closed
, with the
entire collection claimed to be moved
to the Overloon War Museum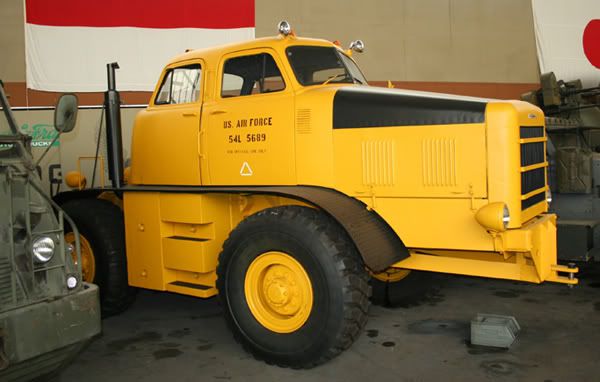 Aircraft Tug at the General Patton Memorial Museum
_________________
Tri-State Warbird Museum Attendant
In a perfect world we would be flying only replicas. (Or at least only non-combat veterans.)
Means of Imperialistic Air Attacks