Not a huge project, but one of CHAA's Harvard Mk II's (AJ583/C-FHWX) will be returning to the skies in early 2018.
She has been grounded since the end of the 2014 season.
Attachment:
File comment: AJ583 at CHAA's 30th Anniversary Open House in 2015. She was the first Harvard acquired by CHAA in 1986.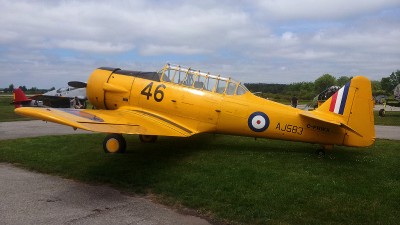 HWX_2015_modified.jpg [ 728.29 KiB | Viewed 1258 times ]
We are doing a complete firewall forward restoration, where we've refinished all the painted metal components from their postwar bronze green to the original 1941-spec aluminum finish.
A freshly overhauled engine due to arrive from Covington's within the next couple of weeks, as well as overhauled engine accessories.
I'm also leading an effort on a number of cosmetic projects to make her look more authentic.

We're also making great progress on our long term project, Harvard Mk 4 20304/C-FBZT.
She should hopefully be back in the air (for the first time since 1964!) in 2019 or possibly 2020.
Her overhauled engine was hung at the end of September.
Attachment:
http://www.harvards.com