Hi all
I am collecting some material or references of aviation related art, but not the usual aviation painting of airplanes and so on. I know there is a wonderful thread in a forum somewhere (not Wix) but I lost the reference and... well, any help appreciated.
Anyhow, to push my point and because I am interested not only on new references but also impressions that these works arouse, here some references to the kind of stuff I am researching to illustrate the point:
The famous Fionna Banner Harrier and Jaguar installation @ the Tate, in London, in 2010:
(source:
https://www.theguardian.com/artanddesign/2010/jun/29/how-did-tate-hang-harrier
) and
https://www.theguardian.com/artanddesign/gallery/2010/jun/28/fiona-banner-tate-britain
)
Which ended as casted lingots as a statement from the artist
Quote:
Her intention with Harrier and Jaguar was to draw attention to the conflict between our appreciation of the planes as objects of beauty (note how we name them, after predatory wild animals we admire) and their lethal role.

"After the show I reclaimed the planes and carefully took them to pieces and recast them as ingots." She says she will use them eventually in another work — "It was very important to me not to sell those on to what might have been a trophy collection. There was a lot to do with trophyism and trophy art, territory and ownership and desire embedded in that exhibition. All things I feel I'm subject to and also very uncomfortable with."
from a Times interview
https://www.thetimes.co.uk/article/fiona-banner-she-put-a-plane-in-tate-britain-now-shes-flying-0xcdmdsprrx
(for more see:
http://www.fionabanner.com/works/ingots/index.htm
)
Anyhow, she has more interesting work if you care to see her website.
Another that will even resonate with some themes related with aircraft recovery is the work (provocation?) from Roger Hiorn buried aircraft series.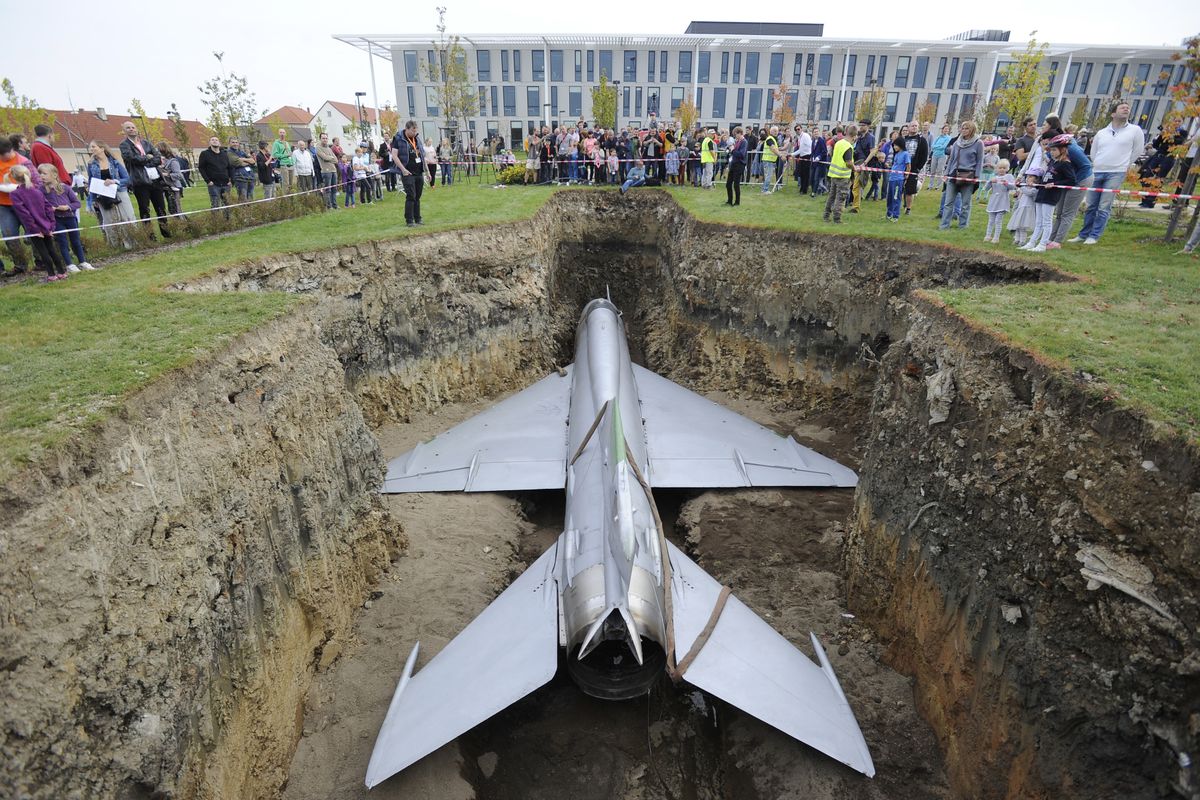 from
http://www.radio.cz/en/section/curraffrs/british-artist-buries-mig-21-fighter-jet-to-symbolize-the-end-of-an-era
First, a 737 in the UK, then a Mig 21 in the Czech Republic...
Why? Not really an answer but anyway:
https://www.theguardian.com/artanddesign/2016/apr/21/roger-hiorns-bury-boeing-737-under-birmingham-canalside-ikon
A last one, is the Aviao piece by "los carpinteros"
source
https://www.designboom.com/art/imagining-materiality-and-civilization-by-los-carpinteros/
Well, you got the idea... Any links or references to these kind of approaches are welcome, as your comments.
A final line:
I am thinking most of us when thinking on aviation art relate it also to flight and flying. The above seem to consider only the object of technology and its relation to society. Both takes seem worthwhile to explore. I would propose that some of the most interesting art works are those that make you question whats around you in some way or other. Discomfort brings change... hopefully for the better.